Bristol exhibition on the body and brain
A permanent £1.5million exhibition all about the human body and the brain opens today [Friday 11 March] at the @Bristol centre.  All About Us will feature 50 new interactive exhibits including a real human brain and a live Lab, allowing visitors to test human phenomena and engage in real science. Exhibits include:
Vein Viewer: See the veins in your own hands under near infrared light
Digestive Run: Feed the skeleton and watch how the meals you eat pass through your body and how the waste ends up in the toilet
Startle: Capture your startled face on camera. With At-Bristol's new Explore More technology you can e-mail your crazy expressions home to amuse your friends
Exercise: Discover how much energy is required to burn certain foods.  How long do you have to exercise to burn a piece of a chocolate bar?  Now, compare it to a Brussels sprout
Sound Bite: Bite down on a straw placed over a metal rod connected to an iPod, place your fingers in your ears and hear music through the vibrations of the bones in your jaw
High Speed Camera:  Jump as high as you can, get captured on a high speed camera and review the movement in your legs as you prepare to jump and land
Push Over: An optical illusion that challenges your balance. Can you stay standing when the world around you appears to be moving?
Torso:  Complete the torso challenge by removing and identifying human organs
Before Birth: See how a baby grows month by month inside its mother and examine how this growth causes a mother's organs to move!
Weigh a Brain:  Explore how the brain changes throughout a lifetime by weighing plastic brains at different stages of life, from before birth through to adulthood
Your CO2 level: Hold your breath and blow into a sensor to determine the levels of CO2 your body gives out.  Does it change if you hold your breath longer?
Vocal Vowels: Develop your understanding of speech and how we form the sounds of A, E, I, O, U by the shapes we make with our mouth, throat and tongue
Look Closer:  Take a closer look at yourself with a magnified lens.  What do the hairs on your arms look like close up and what lies beneath your finger nails?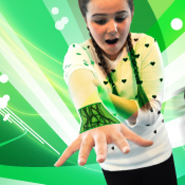 Supported by the Wellcome Trust with contributions from the University of Bristol, the At-Bristol exhibition has been developed around the seven themes of the human body, which are Cardiovascular, Reproduction, Locomotion, Senses, Digestion, DNA and Brains.
As part of the 'Brains' theme there will be a Real Brain exhibit, which consists of a large tank, engraved with the image of a person on one side and the skeleton and central nervous system on the other.  In the position of the brain will be the real human brain, showing both the right and left hemispheres.
The exhibit has been carefully and sensitively researched and designed by At-Bristol's in-house exhibitions team, who have worked within the requirements of the HTA licence to treat the donor material with the respect and dignity it deserves.
The requirements of the HTA means the donor of the real brain has given their full and personal consent to it being presented in At-Bristol as part of the All About Us exhibition for the sake of science and learning.  At-Bristol holds no personal details of the person who has donated their brain. The brain has come from an anonymous donor.
For those visitors that wish to discover more about real science in action, a touch screen can be used to show dialogue with people that have a direct interest in medical science research and donor activity.
Two surgeons, a future donor, the Bequests Co-ordinator from the Centre for Clinical and Comparative Anatomy at the University of Bristol and an anatomy teacher will be talking about their experiences.
"The exhibition has given us the opportunity to engage with the public, highlighting the value we place upon our donors that wish to bequeath their bodies, and to see and hear about the wonders of the human body and the brain," said Steve Gaze, Teaching Services Manager in Bristol University's Centre for Comparative and Clinical Anatomy. "Staff from the Centre, who have worked closely with the At-Bristol exhibition team, will be on hand to talk about the Real Brain exhibit at the launch."
Sophina Jagot, Marketing Manager for At-Bristol said: "Our visitors will be able to get hands-on by investigating how their brain and bodies work together and how we relate to people and the world around us.  From looking at your own veins under a vein ray to exploring how food passes through your body or capturing your startled expressions on camera, All About Us allows people to connect with themselves and discover our amazing abilities. It's a celebration of all things human."
Another exciting feature of All About Us is the addition of the new Live Lab – a special laboratory set up on the ground floor of At-Bristol where visitors can watch and engage in real science and live experiments including DNA extractions and classroom-style animal dissections carried out by professional facilitators.
Related articles