Researchers from the University of Southampton and the Institut d'Optique in Bordeaux, France have devised a new approach for controlling light in a silicon chip that could make them programmable.
Silicon photonics are forming the backbone of next-generation on-chip technologies and optical telecommunication, which are aimed at a wide range of emerging applications including optical interconnects, microwave photonic circuits, and integrated optical sensors.
The function of a photonic chip is usually hard-wired, but having reconfigurable optical elements would allow light to be routed flexibly, opening up new applications in programmable photonic circuits.
Traditional spatial light modulators use liquid crystals or micromirrors to provide many independently controllable pixels, and this has revolutionised optics in recent years, with many applications in imaging and holography and adaptive optics.
In their new work, presented in the April issue of the journal Optica, the team makes use of multimode interference (MMI) devices which are usually fixed. However, the team shows that different modes travelling through the MMI can be dynamically controlled using a femtosecond laser. This acts to effectively shape the transmitted light, allowing some modes through and restricting others.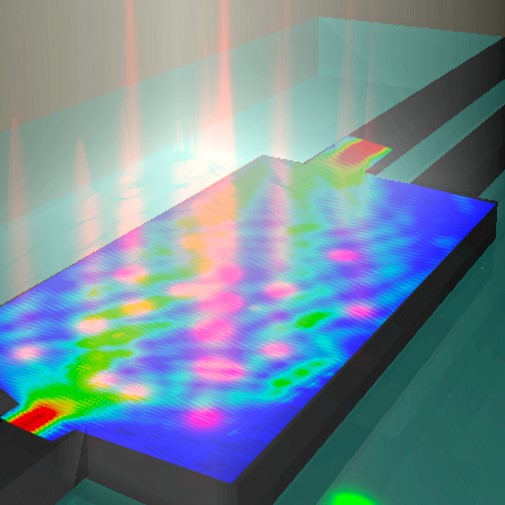 Using a silicon-on-insulator 1 x 2 multimode interference splitter with a projected pattern of perturbations induced by the femtosecond laser, the perturbation pattern achieves routing of light to a single output port with 97 per cent efficiency, essentially making the device programmable.
"We have demonstrated a very general approach to beam shaping on a chip that provides a wide range of useful functionalities to integrated circuits. The integrated spatial light modulator turns conventional silicon photonics components into versatile reconfigurable element," said lead author Roman Bruck, a postdoctoral researcher at the University of Southampton.
Practical applications of this technology will include all-optical reconfigurable routers, ultrafast optical modulators and switches for optical networks and microwave photonic circuits as well as wafer-scale optical testing of photonic chips. More work is needed to develop these ideas into practical applications.
Principal investigator Professor Otto Muskens, from Physics and Astronomy at the University of Southampton, said: "There are many new directions to explore, from gaining a deeper understanding to application of the new concepts into real-world devices. This is a potentially disruptive new approach toward field-programmable chips which can enhance and complement existing strategies, or even partially replace current technology."
The study 'All-optical spatial light modulator for reconfigurable silicon photonic circuits' R. Bruck, K. Vynck, P. Lalanne, B. Mills, D. J. Thomson, G. Z. Mashanovich, G. T. Reed, and O. L. Muskens, Optica 3(4), 396-402 (2016) can be viewed at https://www.osapublishing.org/optica/abstract.cfm?uri=optica-3-4-396
http://www.southampton.ac.uk/weareconnected
Bath-based ContinuumBridge has launched an intelligent, connected IoT device called Spur.
This is aimed at service providers in the facilities management, retail, leisure and hospitality industries to provide an intelligent, easy-to-use means for service users to initiate a request or report an issue and provides the user with an immediate acknowledgement.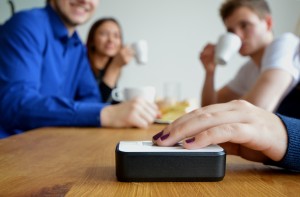 The physical part of Spur is a call button that integrates a display whose message indicates to the user what they are able to request/report and then provides instant visual feedback confirming the outcome. For example, if installed by a coffee machine the display could say, "Push here if this machine requires more coffee" and then after pressing the button the display could change to say, "More coffee for this machine has been requested". Similar scenarios can be applied in other situations, such as reporting that a printer or photocopier is out of toner, or that a toilet needs cleaning. Multiple call options are possible by cycling the e-ink display, for example, requesting waiter service or asking for the bill in a restaurant, and perhaps subsequently rating the customer experience.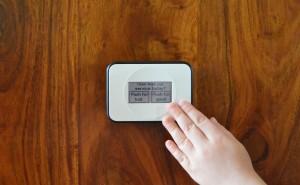 "During Spur's development we worked closely with our customers and are confident that it meets genuine needs. The capability that lies behind the button provides numerous benefits for both the service provider and end‑user or customer," said Peter Claydon, CEO of ContinuumBridge. "
The technology uses 868MHz wireless for low power connections, allowing a battery life of up to 5 years. A gateway bridge, which only requires a power outlet, provides connectivity between the wireless buttons and a server using a cellular modem so there is no need for network connection. Service providers access the server through a fully programmable but easy to use web portal using the Wisp technology developed by ContinuumBridge. This provides comprehensive reporting that is available through the web site or via email, SMS or data-sharing with a third party database. The whole Spur solution is safe-guarded with state-of-the-art, end-to-end security.
"We were trying various wireless technologies such as Z wave, Zigbee and WiFi for the battery life and the range of the radio," said Claydon. "A mesh is OK if you have lots of them but try telling an installer that. So we worked backwards from those requirements. The e-ink display is great for low power, so we've uses a standard 868MHz radio with our own lightweight protocol so that you only turn the radio on when someone presses the button and once an hour to check for updates. At 10 pushes a day that gives us a 5 year battery life and 300m line of sight connection or three floors of an office building from the 868MHz radio," he said.
"The gateway is the same bridge that we have already developed which is a Raspberry Pi at heart with the 868MHz radio and a 3G cellular modem so you don't have to get into someone's IT infrastructure and the bandwidth required is so low," he added.
Spur is undergoing trials now in the UK and volume production will commence in mid-2016. ContinuumBridge is looking for distribution partners throughout Europe with North American and other geographies anticipated in the future.
Related articles