Researchers from the University of Southampton and the Institut d'Optique in Bordeaux, France have devised a new approach for controlling light in a silicon chip that could make them programmable.
Silicon photonics are forming the backbone of next-generation on-chip technologies and optical telecommunication, which are aimed at a wide range of emerging applications including optical interconnects, microwave photonic circuits, and integrated optical sensors.
The function of a photonic chip is usually hard-wired, but having reconfigurable optical elements would allow light to be routed flexibly, opening up new applications in programmable photonic circuits.
Traditional spatial light modulators use liquid crystals or micromirrors to provide many independently controllable pixels, and this has revolutionised optics in recent years, with many applications in imaging and holography and adaptive optics.
In their new work, presented in the April issue of the journal Optica, the team makes use of multimode interference (MMI) devices which are usually fixed. However, the team shows that different modes travelling through the MMI can be dynamically controlled using a femtosecond laser. This acts to effectively shape the transmitted light, allowing some modes through and restricting others.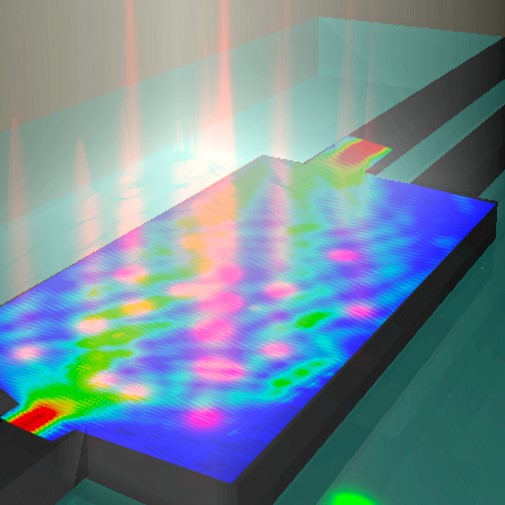 Using a silicon-on-insulator 1 x 2 multimode interference splitter with a projected pattern of perturbations induced by the femtosecond laser, the perturbation pattern achieves routing of light to a single output port with 97 per cent efficiency, essentially making the device programmable.
"We have demonstrated a very general approach to beam shaping on a chip that provides a wide range of useful functionalities to integrated circuits. The integrated spatial light modulator turns conventional silicon photonics components into versatile reconfigurable element," said lead author Roman Bruck, a postdoctoral researcher at the University of Southampton.
Practical applications of this technology will include all-optical reconfigurable routers, ultrafast optical modulators and switches for optical networks and microwave photonic circuits as well as wafer-scale optical testing of photonic chips. More work is needed to develop these ideas into practical applications.
Principal investigator Professor Otto Muskens, from Physics and Astronomy at the University of Southampton, said: "There are many new directions to explore, from gaining a deeper understanding to application of the new concepts into real-world devices. This is a potentially disruptive new approach toward field-programmable chips which can enhance and complement existing strategies, or even partially replace current technology."
The study 'All-optical spatial light modulator for reconfigurable silicon photonic circuits' R. Bruck, K. Vynck, P. Lalanne, B. Mills, D. J. Thomson, G. Z. Mashanovich, G. T. Reed, and O. L. Muskens, Optica 3(4), 396-402 (2016) can be viewed at https://www.osapublishing.org/optica/abstract.cfm?uri=optica-3-4-396
http://www.southampton.ac.uk/weareconnected
Engineers from the University of Southampton are collaborating with the British Museum to examine buried Roman coins using the latest X-ray imaging technology.
The powerful scanning equipment at Southampton's µ-VIS Centre for Computed Tomography is being used to examine Roman coins buried in three archaeological artefacts from three UK hoards.
The centre's equipment can scan inside objects – rotating 360 degrees whilst taking thousands of 2D images, which are then used to build detailed 3D images. In the case of the coins, the exceptionally high energy/high resolution combination of the Southampton facilities allows them to be examined in intricate detail without the need for physical excavation or cleaning. For those recently scanned at Southampton, it has been possible to use 3D computer visualisation capabilities to read inscriptions and identify depictions of emperors on the faces of the coins – for example on some, the heads of Claudius II and Tetricus I have been revealed.
"Excavating and cleaning just a single coin can take hours or even days, but this technology gives us the opportunity to examine and identify them quickly and without the need for conservation treatment at this stage. It also has potential for examining many other archaeological objects," said University of Southampton archaeologist, Dr Graeme Earl. "The University's Archaeological Computing Research Group can then take this one step further – producing accurate, high resolution CGI visualisations based on scan data. This gives archaeologists and conservators around the world the opportunity to virtually examine, excavate and 'clean' objects."
The scanning technique is already yielding some fascinating results and the possibility of identifying a hoard of coins in a pot, without removing them, is very exciting, says Dr Roger Bland, Head of Portable Antiquities and Treasure at the British Museum.
The three objects examined at Southampton are:
A cremation urn containing nine coins, dating from AD282, found in the Cotswolds. This item in particular would take months to excavate – with archaeologists needing to carefully examine bone fragments and remains to extract more information about its past.
An estimated 30,000 Roman coins discovered in Bath, dating to around AD270 and concreted together in a large block weighing over 100 kilograms (radiograph image only).
 A small pot dating to the 2nd century found in the Selby area of East Riding in Yorkshire.
"Our centre examines a wide variety of objects from the layup of individual carbon fibres in aircraft wing components, to the delicate roots of growing plants, and now ancient Roman coins. It is our integration of state-of-the-art imaging hardware, world-class computing and image processing expertise, which allows us to break new ground," said  Professor Ian Sinclair, director of the µ-VIS Centre for Computed Tomography. "We have recently formed an inter-disciplinary research group for Computationally Intensive Imaging, which brings together a broad spectrum of world-class imaging activities from disciplines across the University – of which this project is an excellent example."
The University of Southampton and the owners of the artefacts have plans to share the scan data with the public, hopefully through future exhibitions and online.
Related articles
Scalable low-volume production method for moulded polymer bipolar plates simplifies processing and cut manufacturing costs
Southampton startup Bac2 is demonstrating moulded bipolar plates for fuel cell stacks that are made using its patented ElectroPhen electrically conductive polymer. The process reduces the cost of fuel cells because they can be moulded for high volume production and is economical to tool-up and mould relatively small quantities of plates, sometimes just a few hundred.
The unique mould-flow approach means that the plates also do not need post-processing, such as surface machining or drilling, after moulding, further reducing costs and cutting waste.
The ElectroPhen bipolar plates are available for many different types of fuel cell stacks, from high-temperature and low-temperature polymer electrolyte membrane (PEM), direct methanol, alkali and phosphoric acid designs. Unlike those made from metal, the plates are chemically inert, do not corrode, will not poison fuel cell electrodes and are rugged enough to withstand the harshest environments. They are made using a simple,
2-stage, mix-and-mould manufacturing process.
In addition to moulded plates, Bac2 supplies blank plates that can be easily machined for fuel cell development work. Blank plates are available from stock.
Related articles
The world's first control system that will allow engineers to programme autonomous satellites and spacecraft to think for themselves has been developed by scientists from the University of Southampton.
Professor Sandor Veres and his team of engineers have developed a cognitive software agent control system called 'sysbrain' that uses natural language programming (NLP) to 'read' special English language technical documents on control methods. This gives the vehicles advanced guidance, navigation and feedback capabilities to stop them crashing into other objects, as well as agent-based control with mission execution capabilities and the ability to recognise and reconfigure faults. This approach can be applied to other automated systems.
"This is the world's first publishing system of technical knowledge for machines and opens the way for engineers to publish control instructions to machines directly," said Professor Veres, who is leading the EPSRC-funded project. "As well as spacecrafts and satellites, this innovative technology is transferable to other types of autonomous vehicles, such as autonomous underwater, ground and aerial vehicles."
To test the control systems that could be applied in a space environment, Professor Veres and his team constructed a unique test facility and a fleet of satellite models, which are controlled by the sysbrain cognitive agent control system.  The 'Autonomous Systems Testbed' consists of a glass covered precision level table, surrounded by a metal framework, which is used to mount overhead visual markers, observation cameras and isolation curtains to prevent any external light sources interfering with experimentation. Visual navigation is performed using onboard cameras to observe the overhead marker system located above the test area. This replicates how spacecraft would use points in the solar system to determine their orientation.
"We have invented sysbrain to control intelligent machines. Sysbrain is a special breed of software agents with unique features such as natural language programming to create them, human-like reasoning, and most importantly they can read special English language documents in 'system English' or 'sEnglish'," said Professor Veres. "Human authors of sEnglish documents can put them on the web as publications and sysbrain can read them to enhance their physical and problem solving skills. This allows engineers to write technical papers directly for sysbrain that control the machines."

Related articles