Bristol has  led the 4G revolution and will continue to do so thanks to the skills and talent in the city says one of the directors of telecoms giant EE.
Gerry McQuade, chief marketing officer and board member at the Aztec West-based firm, said Bristol was the first place to get 4G – with the first transmitter in the UK just off the M32.
Speaking to delegates at the Business Showcase South West, he said: "Being here gives us a pool of talented graduates better than anywhere else in the UK. Having the universities of Bristol, Bath and UWE on our doorstep gives us access to the best young talent around."
"It is not just about graduate talent though, we also need to be in a location where we can get mature talent. There is a plethora of media, high tech and engineering business giving us access to new blood with the necessary experience that helps keep us successful."
He said UK consumers had led the way globally in mobile internet use but businesses had not always done the same. The arrival of 4G was changing that with 200,000 small businesses and 5,000 large corporate firms using 4G, which allows them to use more data, more quickly and opens up mobile working.
He added: "Mobility will change not just the way you contact customers but it will change the way you run your business."
Mr McQuade was one of several high profile speakers at the showcase, staged at the Colston Hall.
via Aztec West-based director of mobile giant EE, Gerry McQuade, says Bristol has led the 4G revolution | Blog.
A Belfast technology company that provides IT systems is setting up in Bristol and creating 50 jobs.
Kainos, which works mostly in healthcare, financial services and the public sector markets, is moving into the Orega Business Centre in Victoria Street.
The company cited Bristol's strong support for business, as well its strength as a source of graduate talent with two first-class local universities, which is fostering a growing community of high-tech firms and digital agencies.
"We are looking forward to welcoming the Kainos team to Bristol and supporting them in its ambitious growth plan,"said Professor Joe McGeehan, chair of Invest Bristol & Bath. "As a proven global technology leader, we are hopeful Kainos will make great contributions to our city and local economy, as well as to the established Bristol digital community."
Kainos will also be hosting its summer AppCamp in the city this year.The camp is a free event where undergraduates in computing or related subjects are trained to develop apps for Apple iPhones or iPads by Kainos software developers over an eight-week programme. Chief technology officer, Tom Gray, said: "The build-up to each AppCamp is tremendously exciting, and this year is particularly special because of the additional event in Bristol."
The camp starts on June 30 and interested students can apply for a place by visiting www.appcamp.co.uk/sign-up/ or email to appcamp@kainos.com
via IT firm Kainos creates 50 new jobs at Orega Business Centre in Bristol | Blog.
Related articles
Bristol showcases local business innovation to Vince Cable
Secretary of State for Business Vince Cable visited the EngineShed in a whistle-stop tour of some of Bristol's innovative and growing businesses yesterday, Thursday 3rd April.
His tour included visits to businesses recently awarded funding from the West of England Local Enterprise Partnership's (WE LEP) £25 million Growth Fund, and he joined the WE LEP for a special board meeting in the Bristol SETsquared Centre at Engine Shed, for a round table discussion on the key issues in driving growth and job creation, as well as the strategic economic plan submitted to Government by the WE LEP earlier in the week.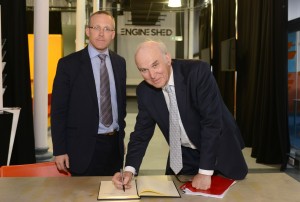 A tour of Engine Shed, Bristol's newest innovation hub – a £1.6 million refurbishment of Brunel's original train station and a unique collaboration between the University of Bristol, WE LEP and Bristol City Council – followed the meeting. Nick Sturge, director of Engine Shed and the Bristol SETsquared Centre, introduced Vince Cable to three fast growing, highly successful SETsquared businesses: Blu Wireless Technology, Plexus Planning and Fusion Processing. Blu Wireless Technology have just received £1 million from the Growth Fund.
"Today I'm witnessing that here in Bristol fast-growing businesses like those based at SETsquared are providing a real boost to the economy," said Cable (above right).
"We were pleased to have the opportunity to showcase some of the innovative and internationally significant projects in our region," said Colin Skellett, chair of the West of England LEP. " It was good to be able to demonstrate how the local growth fund money has helped local companies to grow.  The first round of our West of England growth fund has allocated almost £15 million to nearly 150 local businesses and this in turn has attracted more than £52 million of private sector investment.
"The LEP Board also had the opportunity to discuss with the Secretary of State what else needs to be done, in particular, to support SMEs, to develop the skills we need for a growing economy and to continue to grow our successful inward investment capabilities".
Nick Sturge, director of Engine Shed and SETsquared, (pictured above left) said:  "We were pleased to welcome Dr. Cable back to SETsquared in our new home and to be able to demonstrate some of the cutting edge technologies being developed here. He was particularly interested in the CycleEye technology from Fusion Processing and we were delighted to be able to report on the exciting level of activity within the tech cluster in Bristol and Bath."
Mayor of Bristol George Ferguson said: "Enterprise zones are an important part of the government's plans for growth across the UK. I was pleased to be able to share with the minister our dynamic plans for the future development of Bristol Temple Quarter Enterprise Zone, one of the largest regeneration projects in the UK, that will deliver mixed use development, 17,000 jobs over 25 years, a new performance arena and will be the principal new gateway for the city region."
Related articles