UK's business secretary visits the EngineShed and LEP
Bristol showcases local business innovation to Vince Cable
Secretary of State for Business Vince Cable visited the EngineShed in a whistle-stop tour of some of Bristol's innovative and growing businesses yesterday, Thursday 3rd April.
His tour included visits to businesses recently awarded funding from the West of England Local Enterprise Partnership's (WE LEP) £25 million Growth Fund, and he joined the WE LEP for a special board meeting in the Bristol SETsquared Centre at Engine Shed, for a round table discussion on the key issues in driving growth and job creation, as well as the strategic economic plan submitted to Government by the WE LEP earlier in the week.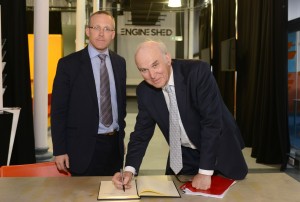 A tour of Engine Shed, Bristol's newest innovation hub – a £1.6 million refurbishment of Brunel's original train station and a unique collaboration between the University of Bristol, WE LEP and Bristol City Council – followed the meeting. Nick Sturge, director of Engine Shed and the Bristol SETsquared Centre, introduced Vince Cable to three fast growing, highly successful SETsquared businesses: Blu Wireless Technology, Plexus Planning and Fusion Processing. Blu Wireless Technology have just received £1 million from the Growth Fund.
"Today I'm witnessing that here in Bristol fast-growing businesses like those based at SETsquared are providing a real boost to the economy," said Cable (above right).
"We were pleased to have the opportunity to showcase some of the innovative and internationally significant projects in our region," said Colin Skellett, chair of the West of England LEP. " It was good to be able to demonstrate how the local growth fund money has helped local companies to grow.  The first round of our West of England growth fund has allocated almost £15 million to nearly 150 local businesses and this in turn has attracted more than £52 million of private sector investment.
"The LEP Board also had the opportunity to discuss with the Secretary of State what else needs to be done, in particular, to support SMEs, to develop the skills we need for a growing economy and to continue to grow our successful inward investment capabilities".
Nick Sturge, director of Engine Shed and SETsquared, (pictured above left) said:  "We were pleased to welcome Dr. Cable back to SETsquared in our new home and to be able to demonstrate some of the cutting edge technologies being developed here. He was particularly interested in the CycleEye technology from Fusion Processing and we were delighted to be able to report on the exciting level of activity within the tech cluster in Bristol and Bath."
Mayor of Bristol George Ferguson said: "Enterprise zones are an important part of the government's plans for growth across the UK. I was pleased to be able to share with the minister our dynamic plans for the future development of Bristol Temple Quarter Enterprise Zone, one of the largest regeneration projects in the UK, that will deliver mixed use development, 17,000 jobs over 25 years, a new performance arena and will be the principal new gateway for the city region."
Related articles
Comments