Bristol City Council is inviting developers, app builders and others interested in improving  the city to sign up for a workshop of digital exploration and innovation.
Leading cloud computing technology developers are coming to Bristol this week for the UK's first Voxxed Day conference.
The conference cover the latest trends and technologies in cloud computing and development, from Infrastructure and Platforms (e.g. IaaS & PaaS) , Big Data and Analytics, Java and JVM languages, Continuous Delivery and Deployment, Microservices and Containers, Functional Programming,  Internet of Things, DevOps, Performance & Optimisation, Architecture & Security and Development Methodologies.
The region has a well established base of companies making world-class cloud technology with a global reach – including industry leaders like Oracle, HP, IBM, Cray and Amazon as well as fast growing startups such as ClusterHQ, JustOneDB and ForgeRock. Many of these companies have started to work together as part of the HBB Cloud Special Interest Group (SIG) to help develop the region as a globally established centre of excellence for cloud computing.
The conference programme is here
You can sign up here for the conference on the 25th Feb at the Watershed 
Phil Bates was a key influencer in bringing Voxxed Days to Bristol. As the leader for Oracle's cloud development centre in Bristol, and one of the champions for the cloud technologies cluster around Bristol and Bath, he said;
"A Voxxed Days event at the Watershed is great news and a recognition of the strength of the software development community in the area, particularly with respect to cloud computing and big data / analytics. Oracle has significant and expanding cloud and business intelligence/analytics product development teams in Bristol. The south-west is a great place to develop technology and conferences like Voxxed Days provide a great opportunity for developers to share expertise, learn from each other's experience and get a handle on what's next in Java, Cloud and Big Data/Analytics."
Each Voxxed Days is spearheaded by local communities so each event retains a unique regional flavour, whilst being part of the overall Voxxed movement. "I'm delighted we can add Bristol to the list of cities hosting Voxxed Days events in 2016," said Mark Hazell, Director of VOXXED, the equivalent in Europe of the Java One conference in the US. "Voxxed Days is all about sharing expert software development experience directly with developers on the ground. Attending the event will equip developers from the area with the kind of knowledge that will improve their day-to-day efforts The Bristol area already stands out as a great location to be a developer, with it's vibrant communities and willingness to share, and we're please that Voxxed Days will help grow that effort."
"High Tech Bristol & Bath CIC was set up to support the cluster around the city regions and high profile events like this are excellent vehicles for doing that. They afford fantastic opportunities for knowledge sharing and developer engagement, together with providing a real boost to our international profile as a great place to be an engineer in the high tech industries," said Dr John Bradford, High Tech Bristol & Bath.
Related articles
A new application programming interface (API) created by Bristol City Council will provide easy and free access to a huge wealth of transport data in one place, making it possible for innovative technologies to be developed.
The Bristol API (Transport) supports the Council's approach to opening up data sets, as it already does through the Bristol Open Data portal and is being further developed by the Bristol Is Open project. The wider aim is to work with the tech community to explore ways to use and present the data framed around relevant and actual transport challenges in the city.
A transport-themed Challenge Event at Watershed on Saturday 23 January from 10:00-17:30 is offering £1,000 worth of customised app design assets from creative agency Big Mallet for the best application using the API from app and software developers, as well as the broader tech community.
The new web-based service has been specifically designed to provide information such as live bus and train times, stop locations, route maps and other data. Developers interested in building apps, websites, connected devices or even customer information displays will be able to use transport data for Bristol and the West of England region completely free for the next year.
The Bristol API is not restricted to public transport as it also gives instant updates on occupancy in local car parks as well as electric vehicle charging locations. It is currently possible to provide live statistics on bicycle dock availability in London and New York, meaning the API will be attractive to developers who have global success in their sights and further adding to the benefits of The Bristol API.
The council's City Innovation team appointed UrbanThings earlier this year to develop the API. UrbanThings is the company behind the successful BusChecker app, which has been downloaded more than two million times worldwide and has received significant critical acclaim. The Innovation team are therefore confident that this collaboration will be hugely beneficial for Bristol citizens and businesses.
"The introduction of the Bristol API (Transport) is a huge step for Bristol City Council and could improve predicted timings as well as help with journey planning for the public," said Stephen Hilton, Director of Bristol Futures. "Using data in this way shows how the council is actively trying to tackle the challenges in the city by collaborating with the tech community and leaders in the industry such as UrbanThings."
"UrbanThings is delighted to be harnessing the Internet of Things to empower intelligent mobility," said Director of UrbanThings Carl Partridge. "We were delighted to be selected to provide this cutting-edge API and we're hoping that developers and engineers are inspired to build some amazing innovations. We look forward to working with them to further enhance the API and help Bristol become a world-leading Smart City."
A tiny village outside Bath has become the first in the country to have high speed fibre broadband installed from scratch.
The village of Claverton has just 70 houses and no broadband infrastructure, so it was not on the list for broadband access, despite being in a valley just a few miles outside Bath and almost next door to the city's world class university. One of the reasons for this is the financial modelling used by infrastructure provider Openreach, which assumes a 20% takeup of services. The cost of installing fibre across 4km to reach the village for just a few houses was uneconomic.
The residents of the village didn't take no for an answer, and as this included several technology and telecoms executives and lecturers from the nearby University of Bath they investigated many different options over the last few years, including a mesh  network over the hill to a connection point. Two years ago they started negotiations with Openreach, and part of this was to change the financial model. To do this, the village has partly funded the installation. All the houses in the village were part of the scheme, on the basis of paying what they could afford. Several home-based businesses contributed more, but access was not dependent on the contributions. Instead, this demonstrated to Openreach and service provider BT that the demand for the service was much higher than the expected 20% and as a result reduced the amount the village contributed. However, there was a clear argument that having high speed fibre broadband increased the value of their homes, and so far the uptake is 40% and rising.
Twelve fibres were installed on the aerial route alongside the copper phone cable, connecting to a new box in the village with Huawei's termination equipment. Just one fibre is lit for broadband, and as this is shared between just 70 homes rather than the usual 200 to 300 there will not be a problem with contention. This also leaves the village well placed for the next generation G.fast rollout of speeds of 400 to 500Mbit/s in 2016 and 2017.
"We realised the high costs involved meant Claverton would not be upgraded as part of BT's normal commercial fibre broadband roll-out for some time, so we set about working with the company to jointly solve the problem," said Dr Rodger Sykes, chairman of software startup Thalia. "It has been hard work over three years to get to where we are today both for the residents of Claverton and the BT people involved, but we have worked together very well. Claverton residents really appreciate the benefits superfast broadband can bring and are excited at the thought that this project provides everyone in the community with the kind of speeds we could only dream about having in the past. It is significant that almost every Claverton household has made a contribution to the village's superfast broadband fund. Because of the distance the village is from the local telephone exchange and a roadside cabinet, most residents were previously getting download speeds of less than 1.5 megabits per second (Mbps), but now our internet experience has been transformed."
BT also invested in the project alongside Openreach. "The people of Claverton are true national trail-blazers and are setting the pace for rural communities through their collaboration with BT," said Bill Murphy, managing director of next generation access for BT, who was at the village for the launch of the service  "Elsewhere, we're working in partnership with local authorities and communities to make high-speed broadband available in the more challenging areas of the UK. There are many examples of us doing so, but this is the first village to work with us on creating an entirely new broadband network for the local community. Given the focus on delivering superfast broadband in this region, it is no wonder the Organisation for Economic Co-Operation and Development (OECD) Wellbeing report last year listed the South West as best UK region for household broadband access."
Related articles
Venturefest has announced the headline speakers for the event on 9th June, with Col Needham, founder and CEO of the Internet Movie Database (IMDb) and Scott Wilcox, the Director of Technology for SXSW Eco.
Col and Scott will be part of a Thought Leadership Conference at Venturefest in the Passenger Shed at Bristol Temple Meads which will highlight the latest developments on key issues affecting innovators and investors.
Col Needham founded IMDb 25 years ago in Bristol before it was acquired by Amazon in 1998. He continues to serve as the founder and CEO of IMDb and is now a key figure in the global film industry.
Scott Wilcox, who has firmly established South by South West Eco as the international conference on the future of sustainability, will be presenting his insights into the latest US and international green technology developments and outlining the opportunities for entrepreneurs in the region. This is a key part of Bristol's role as the Green Capital of Europe this year.
For further information visit our Venturefest website or follow on twitter @venturefestbb
A major piece of research is being undertaken to ensure the West of England region capitalises on the huge opportunities the future of gaming, animation and visual effects will bring following the successful SW VR conference.
via Major survey to help West of England region capitalise on high-tech opportunities – Business Leader.
Find out if your web apps are secure
A new initiative to encourage and support the take up of robotics technology within industry across Europe has been set up at the Bristol Robotics Laboratory (BRL).
The Robotics Innovation Facility (RIF) based at BRL is part of the ECHORD++ project, a €20 million initiative funded by the 7th Framework Programme for Research and Technological Development. There are three RIFs in Europe. The Bristol RIF is the lead institution – the other two RIFs are based at SSSA, Pisa in Italy, and CEA, Paris in France, launching in January. Bristol acts as the clearing house for the projects to be allocated to the most suitable centre, and there is a small fund to support travel and subsistence for the project duration.
The Bristol RIF aims to stimulate the interaction between robot manufacturers, researchers, and end users, by providing free access to robotics equipment and experts. Technical support is provided by a dedicated RIF team, with additional assistance from engineers and scientists within Bristol Robotics Laboratory. The projects can be about control systems and electronics as much as robotics and software and the project will run until 2018.
The RIF acts as a gateway for business, especially SME's, to help them work with new robotic technologies; develop markets for new robotic products, services or processes; demonstrate proof of concept in novel robot application areas; and develop new value chains in existing and emerging sectors. Projects can have up to 6 weeks of support with equipment and engineers. This can be extended if the project needs it.
"SMEs, other businesses and manufacturers can sometimes find it difficult to access the latest technology, and understand the potential of robotics and how future deployment could help their business.  For example, companies frequently have a product or process idea or improvement but can't take it to the next stage within their current capabilities," said Farid Dailami, who heads the Bristol RIF.  "A company may hear that an expensive robot could help their production capacity, but they are unable to access the equipment or software that would allow them to verify this before investing significant time and money in a new system.  Through the RIF we would be able to carry out the necessary experiments and modelling to help them understand possibilities, and resource permitting, support them in getting extra funding to continue development.  We can also introduce companies to national and Europe-wide networks beneficial to the development of their innovation and ideas.
"In the first instance companies get in touch with us and through an application process we learn more about what they are trying to do.  If the company is eligible, and once we are clear what the problem is and how we can help, we set up a meeting and take the process forward. We are also offering a series of workshops which will help participants to develop their understanding of this field and the potential of robotics to enhance their business."
Professor Chris Melhuish, Director of the Bristol Robotics Laboratory says, "BRL is leading the way in Europe in this project, providing a service that bridges the gap between industry and the latest research in robotics.  At BRL we are committed to research that that has a positive impact on society, industry and the economy.  The RIF is an opportunity for us to share the latest innovations in robotics and support existing and new businesses in an ever increasing competitive economy."
Related articles
The Science Communication Unit at the University of the West of England (UWE Bristol) is working with Bristol Robotics Laboratory and Bristol Zoo Gardens to inspire young people to have a go at designing robots inspired by animals. The Robots vs Animals competition launches today during Tomorrow's Engineers Week (3-9 November), and is funded by the Royal Academy of Engineering.
Young people aged between 11 and 18 are invited to answer the challenge, 'What amazing animal ability would you use to design a useful robot?' The winning entries will be exhibited as part of the Festival of Nature 2015, in the centre of Bristol.
Entry details can be found on the Robots vs Animals page.
As well as the national competition, local schools have the chance to participate in Robots vs Animals bioengineering sessions at Bristol Zoo. The sessions are designed for Years 8 and 9, and include the chance to interact with live animals and cutting-edge robots.  "Robots vs Animals is an exciting collaborative project designed to inspire and enthuse young people about the possibilities of engineering as a career. Working with Bristol Zoo Gardens, we are developing workshops which demonstrate how engineering can solve real-world problems by taking inspiration from other realms, such as animals in nature," said Project leader Laura Fogg-Rogers.  "We are really keen to see the designs and creations young people can up with. Biomimicry is such an interesting area of engineering – just think of the possibilities for a robot with the flight of a bird, the sensing power of shrews' whiskers, or the gentle strength of a monkey's hand! We hope the young people who take part are really inspired by the competition to continue and develop their skills as engineers."
The aim of the project overall is to demonstrate engineering as a creative, exciting and innovative field, and encourage a wider range of young people, both boys and girls, to consider it as a career possibility. The competition is a chance for young people to get inspired by nature in order to solve real-world problems.
Competition entrants will need to consider how their robot could be useful by solving real-world problems. It might be a robot that helps us to become more sustainable or supports our health and wellbeing. The robot also needs to take its inspiration from an animal, with careful consideration of the materials that it will be built with and the engineering design process used to make it work.
The winning entry will receive a Rover 5 Raspberry Pi Robot, with other great robotics prizes for runners up, all sourced from Dawn Robotics, a start-up business based in the Technology Business Incubator at the Bristol Robotics Laboratory.
The closing date is 17:00 on 18 May 2015.
Related articles
RS Components in Oxford has launched an Internet of Things (IoT) themed design competition in association with LPRS (Low Power Radio Solutions) to celebrate 25 years of working together.
The entries must be concept based around an application for the IoT which uses LPRS' eRIC transceiver modules and a wireless gateway. The application could solve an existing problem or it could be a completely new invention.
The competition, hosted within the RS Components DesignShare competitions page, starts today with closing date for entries being 19th December. The DesignSpark community will be invited to vote, share and support ideas throughout the competition. The top 20 ideas, voted for by the community, will receive a limited edition eRIC development kit.
The top five entrants, selected by a panel of judges, will then be invited to take part in a Google Hangout in January 2015 to explain their ideas in more detail. This will be available for all customers to watch, which will be a first for DesignSpark. The final winner will be chosen and notified by the end of January with their concept developed and created into a working product as the prize.
"We recently launched the IoT area within DesignSpark, which is a repository of all information and technical articles on the subject, and this competition comes as an excellent opportunity to not only highlight the latest work of engineers designing IoT-enabled applications but also our longstanding relationship with LPRS as a valuable supplier," said Pete Wood, DesignSpark Community Manager at RS Components.
"Partnering with RS is an ideal way to launch this unique challenge to the DesignSpark community which has been at the forefront of providing up to date information on the latest industry trends," said Barry Gillibrand, Managing Director of LPRS. "This couldn't come at a better time as this year we celebrate 25 years of our relationship and look forward to further collaborations in the future."
All entries for this competition must be in English language and for further details on how to enter with a list of full terms and conditions please visit http://www.rs-online.com/designspark/designshare/eng/ideas/ or from the LPRS Website.
Related articles
Cambridge Silicon Radio (CSR) has opened a new Research and Development facility in Bristol to drive further innovation in WiFi technology.
The new site, opened today, is staffed by 33 engineers from a wide range of companies in the area such as ST, Nokia and Imagination Technologies and from all around the world, including India, Italy, Spain and the Czech Republic.
"We were building a WiFi team in Bristol but we needed a step change in capability," said Joep van Buerden, CEO of CSR at the opening (below). "We had the opportunity to acquire the WiFi team lock stock and barrel from ST-Ericsson 16 months ago but then we discovered how good a place Bristol was. There is a steady supply of graduates from the university and leading companies around with a vibrant community of engineers with all sorts of expertise."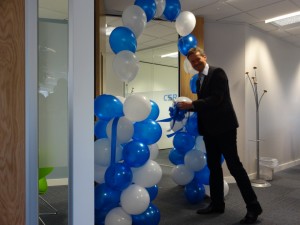 Since the opening of CSR's original R&D site at the Bristol & Bath Science Park in 2012, the size of the team has grown to 33 employees and CSR expects to continue this expansion. The new R&D facility, at Almondsbury in Bristol, will better support the needs of the existing team and enable growth over the coming years.
This expansion will create a number of job opportunities in the local area, especially for graduates from South West universities. "We have some spare capacity but I could very easily see this office growing further," said van Beurden.
"At CSR, we're passionate about developing cutting-edge technology that helps our customers turn great ideas into market leading products, and to do that we need to invest strategically in R&D," said Anthony Murray, Senior Vice President, Business Group at CSR. "That's why we're opening this new, larger facility in Bristol. Bristol has a vibrant technology scene and with high quality universities that are developing the next generation of engineering talent on our doorstep it is a great place to expand our R&D capabilities."
Related articles
Related articles
Bristol has  led the 4G revolution and will continue to do so thanks to the skills and talent in the city says one of the directors of telecoms giant EE.
Gerry McQuade, chief marketing officer and board member at the Aztec West-based firm, said Bristol was the first place to get 4G – with the first transmitter in the UK just off the M32.
Speaking to delegates at the Business Showcase South West, he said: "Being here gives us a pool of talented graduates better than anywhere else in the UK. Having the universities of Bristol, Bath and UWE on our doorstep gives us access to the best young talent around."
"It is not just about graduate talent though, we also need to be in a location where we can get mature talent. There is a plethora of media, high tech and engineering business giving us access to new blood with the necessary experience that helps keep us successful."
He said UK consumers had led the way globally in mobile internet use but businesses had not always done the same. The arrival of 4G was changing that with 200,000 small businesses and 5,000 large corporate firms using 4G, which allows them to use more data, more quickly and opens up mobile working.
He added: "Mobility will change not just the way you contact customers but it will change the way you run your business."
Mr McQuade was one of several high profile speakers at the showcase, staged at the Colston Hall.
via Aztec West-based director of mobile giant EE, Gerry McQuade, says Bristol has led the 4G revolution | Blog.
Bristol showcases local business innovation to Vince Cable
Secretary of State for Business Vince Cable visited the EngineShed in a whistle-stop tour of some of Bristol's innovative and growing businesses yesterday, Thursday 3rd April.
His tour included visits to businesses recently awarded funding from the West of England Local Enterprise Partnership's (WE LEP) £25 million Growth Fund, and he joined the WE LEP for a special board meeting in the Bristol SETsquared Centre at Engine Shed, for a round table discussion on the key issues in driving growth and job creation, as well as the strategic economic plan submitted to Government by the WE LEP earlier in the week.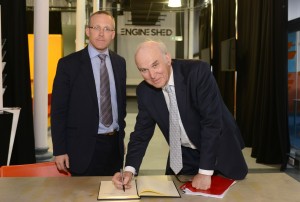 A tour of Engine Shed, Bristol's newest innovation hub – a £1.6 million refurbishment of Brunel's original train station and a unique collaboration between the University of Bristol, WE LEP and Bristol City Council – followed the meeting. Nick Sturge, director of Engine Shed and the Bristol SETsquared Centre, introduced Vince Cable to three fast growing, highly successful SETsquared businesses: Blu Wireless Technology, Plexus Planning and Fusion Processing. Blu Wireless Technology have just received £1 million from the Growth Fund.
"Today I'm witnessing that here in Bristol fast-growing businesses like those based at SETsquared are providing a real boost to the economy," said Cable (above right).
"We were pleased to have the opportunity to showcase some of the innovative and internationally significant projects in our region," said Colin Skellett, chair of the West of England LEP. " It was good to be able to demonstrate how the local growth fund money has helped local companies to grow.  The first round of our West of England growth fund has allocated almost £15 million to nearly 150 local businesses and this in turn has attracted more than £52 million of private sector investment.
"The LEP Board also had the opportunity to discuss with the Secretary of State what else needs to be done, in particular, to support SMEs, to develop the skills we need for a growing economy and to continue to grow our successful inward investment capabilities".
Nick Sturge, director of Engine Shed and SETsquared, (pictured above left) said:  "We were pleased to welcome Dr. Cable back to SETsquared in our new home and to be able to demonstrate some of the cutting edge technologies being developed here. He was particularly interested in the CycleEye technology from Fusion Processing and we were delighted to be able to report on the exciting level of activity within the tech cluster in Bristol and Bath."
Mayor of Bristol George Ferguson said: "Enterprise zones are an important part of the government's plans for growth across the UK. I was pleased to be able to share with the minister our dynamic plans for the future development of Bristol Temple Quarter Enterprise Zone, one of the largest regeneration projects in the UK, that will deliver mixed use development, 17,000 jobs over 25 years, a new performance arena and will be the principal new gateway for the city region."
Related articles
The deadline for the 2014 QPrize, run by Qualcomm Ventures, the investment arm of San Diego based Qualcomm Inc, is approaching.
QPrize is open to all start-ups and entrepreneurs who have raised less than US$2 million in financing and have innovative wireless or technology based products or services that can positively impact the wireless ecosystem.
One winner will be selected from each of our seven regions: Europe, China, India, Israel, Korea, Latin America and North America. The winners will be awarded a US$100K prize in the form of a convertible note. In addition, all regional winners will be invited to San Francisco to participate in our Grand Finals event for an additional $150K in prize funding. The Grand Final will be held at Bloomberg's Next Big Thing Event at the spectacular Cavallo Point on June 9-10, 2014.
For more information click here or to apply, please visit qprize.com.  The deadline for business plan submissions is April 18, 2014.
Related articles
The National Microelectronics Institute is looking for the best UK technology for its 2013 awards. Categories include best young engineer, best collaborative R&D and best University department as well as best small company, but the deadline for entries is August 22nd.
Applications are made on-line and there is no fee.  Winners will be presented with their awards by the sponsor at a Gala Dinner and Award Ceremony in London in November.
This year there are awards for:
Table sponsorship and dinner Registration is now open for the NMI Gala Dinner 2013.
This years event will take place at the Millennium Hotel, Regent Street, London on 21st November 2013.
Related articles
The Manufacturing, Technology and Innovation fair MTI '13 takes place at the Riviera International Centre on 24 October 2013, and is yet again set to be a major highlight in the South West's hi tech & manufacturing calendar; bringing together around 50 leading companies as exhibitors and over 300 delegates for collaboration and networking.
Advanced electronics and hi-tech sectors are a key target for inward investment in Torbay, and this annual event demonstrates the sector's growing strength in the local area.
Torbay and the surrounding area has long been home to a thriving advanced electronics sector, names like Spirent, Oclaro and Gooch and Housego are accessing a large talent pool of skilled engineers; and by building on the sector and creating a critical mass Torbay becomes even more attractive as a place to invest to related companies and their suppliers.
http://www.torbaydevelopmentagency.co.uk/tda-newsletters/tda-newsletter-june-july-2013/bishop-fleming-headline-sponsor-for-mti-13?nocache=1
Tuesday 14th May 16:00 pm to 19:00 pm
Offices of Osborne Clarke, Central Bristol (Close to Temple Meads)
This event is aimed at the region's Science and Technology businesses, sponsored by the West of England Local Enterprise Partnership (LEP) and Osborne Clarke LLP. All sizes of business are welcome to attend. Come and find out about funding opportunities for our region's science and technology businesses. This workshop features speakers from the West of England LEP, Enterprise Europe Network/UKTI and Science City Bristol. They will provide you with information on a number of local and national funding opportunities including:
Regional Growth Fund 3 Applications
EU funding opportunities
UKTI Business support
South West Innovation Vouchers
Light refreshments will be available courtesy of our hosts at Osborne Clarke. For more information and to book a free place, go to:http://www.sciencecitybristol.com/eventbrites/4452764338
While Bristol lost out to Glasgow for the Future City demonstrator project, the TSB judges rated the city's bid very highly, so much so that they have awarded a £3m 'runners-up' prize.
"While there is some disappointment that we did not gain the main prize, Bristol is now the only city in the UK to have won funding from Government to be both a Super Connected City and a Future City." said Mayor George Ferguson. "Bringing these awards together gives us a pot of nearly £15m with which we can move really quickly to lever-in additional funding and support from business to help deliver our plans."
"We are fast becoming the UK's creative capital, a city of experimentation and a city that offers a warm welcome," he said. "Our achievement in beating more than 30 other cities to win government funding for Future Cities is testament to our ambitions and our strong partnership approach with both the city's universities, businesses and partners such as Watershed and Knowle West Media Centre."
A round up of the tech news from the Bristol and Bath region is in February edition of the the new LEP High Tech newsletter
Related articles
The Universities of Bath, Bristol, Cardiff and Exeter today announced a formal collaboration, to boost research expertise and capability in the South West of England and Wales.
The collaboration will explore and identify opportunities for combined research to address global challenges, while also maximising the impact of and return on investment from research funding.
The group of four research intensive universities, each of which have significant research capabilities and which represent a total turnover in excess of £1,300 million, will be known as the GW4. There are already strong partnerships across the four institutions and the collaboration seeks to build on these.
Professor Eric Thomas, Vice-Chancellor of the University of Bristol, said:  "Regional groupings of research intensive universities are a rapidly emerging and important evolution, enabling the sharing of research infrastructure and the identification of thematic areas of expertise.  These will be increasingly important in order for universities to address grand intellectual and societal challenges."
Professor Dame Glynis Breakwell, Vice Chancellor of the University of Bath, said: "The collective strength of the new grouping is much more than the sum of its individual parts. Taken together, the breadth and depth of our research expertise is truly impressive providing a powerful new contender in the increasingly intense competition for research funding on both the national and international level."
Cardiff University's Vice-Chancellor, Professor Colin Riordan, said: "We want to enhance Cardiff's world-leading research and reputation by creating a critical mass of research excellence with other UK universities. In a competitive higher education sector we need to find new ways for Wales to compete for research income.
"Working in collaboration with fellow research-intensive Universities will help us to succeed in research and tackle some of society's biggest research challenges. Critical mass is the key to success and the combined research excellence of Bath, Bristol, Cardiff and Exeter will give Cardiff – and Wales – a new and competitive edge that will place us at the forefront not only in the UK, but internationally."
Professor Sir Steve Smith, Vice-Chancellor of the University of Exeter, said: "This is a vital development for ensuring the growth and development of world class research in the South West and Wales. It gives us the critical mass and the quality to succeed in an increasingly competitive and research-intensive environment. The four universities already have a strong tradition of working together and GW4 will take that collaboration to a new level."
Related articles