Bath-based ContinuumBridge has launched an intelligent, connected IoT device called Spur.
This is aimed at service providers in the facilities management, retail, leisure and hospitality industries to provide an intelligent, easy-to-use means for service users to initiate a request or report an issue and provides the user with an immediate acknowledgement.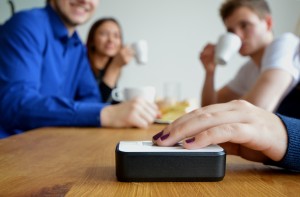 The physical part of Spur is a call button that integrates a display whose message indicates to the user what they are able to request/report and then provides instant visual feedback confirming the outcome. For example, if installed by a coffee machine the display could say, "Push here if this machine requires more coffee" and then after pressing the button the display could change to say, "More coffee for this machine has been requested". Similar scenarios can be applied in other situations, such as reporting that a printer or photocopier is out of toner, or that a toilet needs cleaning. Multiple call options are possible by cycling the e-ink display, for example, requesting waiter service or asking for the bill in a restaurant, and perhaps subsequently rating the customer experience.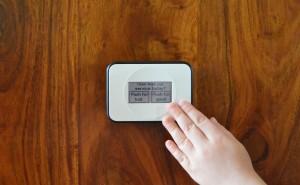 "During Spur's development we worked closely with our customers and are confident that it meets genuine needs. The capability that lies behind the button provides numerous benefits for both the service provider and end‑user or customer," said Peter Claydon, CEO of ContinuumBridge. "
The technology uses 868MHz wireless for low power connections, allowing a battery life of up to 5 years. A gateway bridge, which only requires a power outlet, provides connectivity between the wireless buttons and a server using a cellular modem so there is no need for network connection. Service providers access the server through a fully programmable but easy to use web portal using the Wisp technology developed by ContinuumBridge. This provides comprehensive reporting that is available through the web site or via email, SMS or data-sharing with a third party database. The whole Spur solution is safe-guarded with state-of-the-art, end-to-end security.
"We were trying various wireless technologies such as Z wave, Zigbee and WiFi for the battery life and the range of the radio," said Claydon. "A mesh is OK if you have lots of them but try telling an installer that. So we worked backwards from those requirements. The e-ink display is great for low power, so we've uses a standard 868MHz radio with our own lightweight protocol so that you only turn the radio on when someone presses the button and once an hour to check for updates. At 10 pushes a day that gives us a 5 year battery life and 300m line of sight connection or three floors of an office building from the 868MHz radio," he said.
"The gateway is the same bridge that we have already developed which is a Raspberry Pi at heart with the 868MHz radio and a 3G cellular modem so you don't have to get into someone's IT infrastructure and the bandwidth required is so low," he added.
Spur is undergoing trials now in the UK and volume production will commence in mid-2016. ContinuumBridge is looking for distribution partners throughout Europe with North American and other geographies anticipated in the future.
Related articles