Huawei is to establish a new UK R&D centre in Bristol.
The £125m centre will recruit 30 high-calibre R&D employees and focus on researching ICT chips, software, and analogue chip technology. This is to complement its existing Ipswich-based optoelectronics R&D office. All together, the number of UK-based R&D jobs will increase to 140 by the end of 2014, and as previously announced will reach 300 by 2017. The new Bristol R&D centre  is expected to open later this year.
" The UK is forward-thinking, progressive, and fosters innovation," said Guo Ping, Huawei Rotating and Acting CEO. "This creativity is a major asset to our R&D efforts and gives us the perfect platform to continue pioneering the new, ground-breaking technologies that are building the future. We are committed to working with our customers and partners in the UK to leverage our global presence and customer-centric approach to innovation, bringing value to the UK ICT industry and helping its products and technologies go global." Huawei first opened its operations in the UK in 2001 and now has 15 offices and over 900 employees in the UK, planned to rise to 1,500 by 2017.
Huawei has set up 18 joint customer development centres across Europe and now has over 7,700 staff in the region.
"The ancient 'Silk Road' connected China and Europe for the first time. Today, the 'Silicon Road' of the ICT industry makes the connection even closer," said William Xu, Chief Strategy & Marketing Officer. "Europe enjoys a long tradition of innovation and has high-calibre talents and open business opportunities. As a key player in Europe's innovation ecosystem, Huawei has been jointly innovating and openly collaborating with carriers, partners, and academic institutions to achieve win-win outcomes. These initiatives have improved the competitiveness of the ICT industry in Europe and support EU Commission's objective of building a single digital market and to create a better connected Europe."
"Huawei now has over 7,700 employees in Europe, 850 of which are engaged in R&D activities. In the next five years, Huawei will hire 5,500 additional employees in Europe and the number of R&D employees increasing to more than 1,700," he added.
Currently Huawei has established 28 customer centres around the world, 18 of which are located in Europe, in areas such as wireless access, network communications technologies, business support systems, energies, and industry solutions. Vodafone, BT and other leading carriers granted Huawei several innovation awards based on these JICs.
"Technology is one of the fastest growing sectors in the UK, which is why I am determined to make Britain the centre of tech industries," said George Osborne, the UK Chancellor of the Exchequer. "When I went to China, I visited the Huawei headquarters and met with CEO and Founder, Mr Ren, to highlight the opportunities in Britain. I am delighted that today Huawei are announcing a new R&D centre in the UK. The decision of the world's largest telecommunications equipment maker to innovate in Britain is testament to the outstanding quality of our highly skilled workforce and further evidence that our long term economic plan is working."
Related articles
Related articles
Bristol-based design tool developer Pulsic has launched a patent-pending technology that for the first time creates multiple electrically-correct layouts directly from schematics, allowing designers to quickly explore multiple results concurrently.
The company is demonstrating the Animate tool for the first time at the Design Automation Conference in San Francisco this week.
Existing approaches to automating analogue and custom digital integrated circuit (IC) designs have attempted to improve on portions of the design flow, but have not managed to generate "manual-quality" layout without significant user intervention. Pulsic has drawn on over a decade of experience helping leading-edge customers such as memory chip designers with physical design challenges to deliver a completely automated solution that overcomes the problem for analogue and custom-design layout.
Animate is the first complete automated layout system built from the ground up for transistor-level analogue and custom-digital design. It offers designers a simple, easy-to-use layout solution that delivers multiple layouts from a schematic using automatic constraint extraction and considers place and route concurrently, producing optimal-quality results. Animate automatically generates constraints based on netlist topology analysis, eliminating the need for time-consuming manual constraint entry and management.
Unlike any other analogue layout system, Animate uses a novel patent-pending technology it calls PolyMorphic Layout with a database and algorithmic architecture that derives many potential layout variations for a design. These variations crystallize into multiple, complete, DRC/LVS-correct layouts in minutes. Designers can explore these complete layout options in a fraction of the time needed to produce just a single layout option by hand. As Animate produces layout results quickly, parasitics are available for simulation early in the design process, further speeding the entire design cycle. Animate places and routes simultaneously, ensuring that each process is informed by the other and that "manual-quality" results are achieved.
"As geometries shrink, and as leading-edge processes such as FinFETS reach the market, manual analogue design is no longer sufficient," said Mark Williams, co-founder and CEO of Pulsic. "To get routable placement, you need to know what the routing will look like, but if you place and then route, you can't know this. As DRC rules increase, iterations between layout and design are becoming onerous, but with Animate, you can generate multiple layouts, extract them all, and then choose the optimal one for the desired performance criteria. A much bigger problem space can be explored, with better results"
Designers can use Animate at an early design stage, with minimal constraints, to explore possible layout architectures and extract early parasitics for simulation of layout-dependent effects (LDE). This approach can also provide far more accurate analogue block/design size estimation during floorplanning than has ever previously been possible.
With Animate, transistor-level designers gain not only the productivity of automation, but also the ability to explore many more design options, faster than ever before. The final result is comparable to that of an expert manual layout, but is produced in a fraction of the time.
More details are on the datasheet (registration required)
Related articles
Researchers from the Universities of Bristol and Southampton have helped to develop pioneering 'tweezers' that use ultrasound beams to grip and manipulate tiny clusters of cells, which could lead to life-changing medical advances, such as better cartilage implants that reduce the need for knee replacement operations.
The team worked with test equipment maker Agilent, Crystapol International, the Defence Science and Technology Laboratory (DSTL), Leica Genetix, Loadpoint, Piezo Composite Transducers (PCT), Weidlinger Associates and IKTS-Fraunhofer.
Using ultrasonic sound fields, cartilage cells taken from a patient's knee can be levitated for weeks in a nutrient-rich fluid. This means the nutrients can reach every part of the culture's surface and, combined with the stimulation provided by the ultrasound, enables the cells to grow and to form better implant tissue than when grown on a glass petri dish.
The tweezers, developed with £3.6m of Engineering and Physical Sciences Research Council (EPSRC) funding, involve multiple, tiny beams of ultrasonic waves that, in a typical device, point into a 10 mm-diameter chamber from all around. With the aid of a powerful microscope to monitor the procedure, the forces generated by the waves can then be manipulated so that they nudge cells into the required position, turn them around, or hold them firmly in place.  The 'four year Electronic Sonotweezers: Particle Manipulation with Ultrasonic Arrays' programme started in 2009 and also includes  researchers from the Universities of Dundee and Glasgow.
By holding the cells in the required position firmly but gently, the tweezers can also mould the growing tissue into exactly the right shape so that the implant is truly fit-for-purpose when inserted into the patient's knee.
"Ultrasonic tweezers can provide what is, in effect, a zero-gravity environment perfect for optimising cell growth," said Professor Martyn Hill, Head of the Engineering Sciences Unit at the University of Southampton, who led the cartilage tissue engineering work in collaboration with colleagues Dr Peter Glynne-Jones, New Frontiers Fellow in Engineering Sciences, Dr Rahul Tare, a Lecturer in Musculoskeletal Science and Bioengineering, and Professor Richard Oreffo, a Professor of Musculoskeletal Science. "As well as levitating cells, the tweezers can make sure that the cell agglomerates maintain a flat shape ideal for nutrient absorption. They can even gently massage the agglomerates in a way that encourages cartilage tissue formation."
Professor Bruce Drinkwater of Bristol University, who co-ordinated the programme, said: "Ultrasonic tweezers have all kinds of possible uses in bioscience, nanotechnology and more widely across industry. They offer big advantages over optical tweezers relying on light waves and also over electromagnetic methods of cell manipulation; for example, they have a complete absence of moving parts and can manipulate not just one or two cells at a time but clusters up to 1mm across – a scale that makes them very suitable for applications like tissue engineering."
The research programme has also shown that ultrasonic tweezers can be used to build up cell tissue layer by layer, which could for instance, help to reconstruct nerve tissue after severe trauma such as limb amputation.
This research will enable ultrasonic tweezer technology to be refined and miniaturised and specific uses to be explored and developed in the next few years. The first real-world applications, in sectors such as bioscience and electronics, could potentially be developed within around five years.
http://www.bristol.ac.uk/physics/research/nanophysics/facilities/tweezers)
Related articles
David Manners in Electronics Weekly is highlighting that the US also suffers from a lack of understanding of the needs of the silicon industry, which is suffering from an 'innovation deficit' says the CEO of the Semiconductor Industry Association (SIA), Brian Toohey.
"One threat to the semiconductor market's continued growth and America's overall economic strength is the innovation deficit – the gap between needed and actual federal investments in research and higher education," says Toohey,
"Policymakers should act swiftly to close the innovation deficit by committing to robust and sustained investments in basic scientific research and higher education," he said. This also applies across the UK and European industry.
The worldwide semiconductor industry had a record quarter with sales of $78.47 billion in Q1. March sales were $26.16 billion. "Sales in March increased across all regions and every semiconductor product category compared to last year, demonstrating the and diverse strength," says Toohey.
Regionally, year-to-year sales increased in the Americas 16.1 percent, Asia Pacific 12.9 percent, Europe 8 percent, and Japan 0.4 percent, marking the first time in more than three years that year-to-year sales increased across all regions. Sales were up compared to the previous month in Europe 3.9 percent, Asia Pacific 1.4 percent, and Japan 0.3 percent, but down slightly in the Americas -4.3 percent.
"The global semiconductor market has demonstrated consistent momentum in recent months, and sales are well ahead of last year's pace through the first quarter of 2014," says Toohey.
via US Chip Industry Has 'Innovation Deficit' Says SIA CEO | Markets | Mannerisms.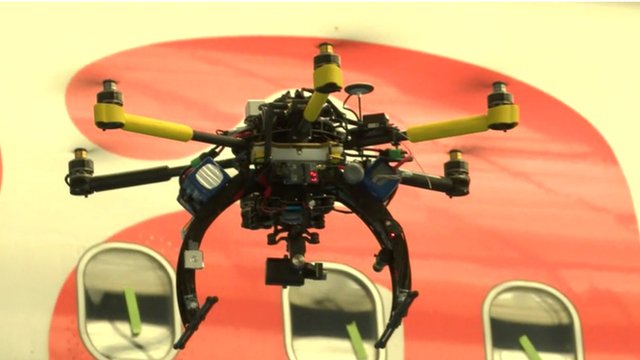 Easyjet is developing drones to inspect its fleet of Airbus aircraft using technology from the Bristol Robotics Lab, reports BBC News, and may introduce the flying maintenance robots as early as next year.
The drones will be used to scan and assess Easyjet planes and report damage back to engineers.
"Aircraft inspection is a great application for drones," said Dr Arthur Richards, head of aerial robotics at the Bristol Robotics Laboratory which is a collaboration between UWE and the University of Bristol. "Coupled with smart navigation and computer vision, they can get accurate data from really awkward places."
Drone company Coptercraft in Berkshire and software company Measurement Solutions in Peterborough are also involved in the project.
The robot can be remotely controlled, but Easyjet wants to automate drone flights. They are fitted with high definition video cameras, but can also use lasers to scan the outside of the aircraft, Easyjet head of engineering Ian Davies told the BBC.
"We could zoom [the laser scanner] up and down the aircraft and map the surface," he said. "If we've mapped the aeroplane we can have a complete history of its full life."
He added that it is safer to have drones working at height than humans having to go up on a rig.
One of the main challenges for the drones is how to get them to work outside in windy conditions, Mr Richards said.
The drones are built to be light in weight, but that can make them vulnerable to gusts of wind on an airfield.
They plan to use research into how animals such as bees and birds cope with blustery weather to "see how nature solves the same problem".
Another challenge is to automate drone flights, he added.
At the moment engineers and pilots email pictures and call Easyjet's control centre to try to resolve issues over the phone, but Easyjet is planning to use hi-tech glasses that can relay high definition video images back to base.
Engineers could be directed to do repairs by a team looking at the video stream coming from the glasses, Mr Davies said. The technology also uses "augmented reality", where a computer image is superimposed on the view as seen through the glasses.
For example, an engineer can compare an image of a fuselage projected onto the glasses with the actual fuselage, to see what work needs to be done.
At the moment, the data is transmitted using 4G, but Easyjet is discussing options for satellite links with communications company Iridium, Mr Davies said.
via BBC News – Easyjet develops flying robots to inspect aircraft.
Related articles
Related articles
Bath startup Thalia Design Automation has raised its first equity funding to commercialize natural algorithms such as those used by ants for analogue, mixed signal and power design tools and is set to launch the beta versions of two new tools.
Bristol has  led the 4G revolution and will continue to do so thanks to the skills and talent in the city says one of the directors of telecoms giant EE.
Gerry McQuade, chief marketing officer and board member at the Aztec West-based firm, said Bristol was the first place to get 4G – with the first transmitter in the UK just off the M32.
Speaking to delegates at the Business Showcase South West, he said: "Being here gives us a pool of talented graduates better than anywhere else in the UK. Having the universities of Bristol, Bath and UWE on our doorstep gives us access to the best young talent around."
"It is not just about graduate talent though, we also need to be in a location where we can get mature talent. There is a plethora of media, high tech and engineering business giving us access to new blood with the necessary experience that helps keep us successful."
He said UK consumers had led the way globally in mobile internet use but businesses had not always done the same. The arrival of 4G was changing that with 200,000 small businesses and 5,000 large corporate firms using 4G, which allows them to use more data, more quickly and opens up mobile working.
He added: "Mobility will change not just the way you contact customers but it will change the way you run your business."
Mr McQuade was one of several high profile speakers at the showcase, staged at the Colston Hall.
via Aztec West-based director of mobile giant EE, Gerry McQuade, says Bristol has led the 4G revolution | Blog.
A Belfast technology company that provides IT systems is setting up in Bristol and creating 50 jobs.
Kainos, which works mostly in healthcare, financial services and the public sector markets, is moving into the Orega Business Centre in Victoria Street.
The company cited Bristol's strong support for business, as well its strength as a source of graduate talent with two first-class local universities, which is fostering a growing community of high-tech firms and digital agencies.
"We are looking forward to welcoming the Kainos team to Bristol and supporting them in its ambitious growth plan,"said Professor Joe McGeehan, chair of Invest Bristol & Bath. "As a proven global technology leader, we are hopeful Kainos will make great contributions to our city and local economy, as well as to the established Bristol digital community."
Kainos will also be hosting its summer AppCamp in the city this year.The camp is a free event where undergraduates in computing or related subjects are trained to develop apps for Apple iPhones or iPads by Kainos software developers over an eight-week programme. Chief technology officer, Tom Gray, said: "The build-up to each AppCamp is tremendously exciting, and this year is particularly special because of the additional event in Bristol."
The camp starts on June 30 and interested students can apply for a place by visiting www.appcamp.co.uk/sign-up/ or email to appcamp@kainos.com
via IT firm Kainos creates 50 new jobs at Orega Business Centre in Bristol | Blog.
Related articles
Bristol showcases local business innovation to Vince Cable
Secretary of State for Business Vince Cable visited the EngineShed in a whistle-stop tour of some of Bristol's innovative and growing businesses yesterday, Thursday 3rd April.
His tour included visits to businesses recently awarded funding from the West of England Local Enterprise Partnership's (WE LEP) £25 million Growth Fund, and he joined the WE LEP for a special board meeting in the Bristol SETsquared Centre at Engine Shed, for a round table discussion on the key issues in driving growth and job creation, as well as the strategic economic plan submitted to Government by the WE LEP earlier in the week.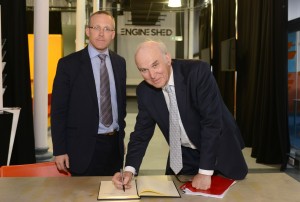 A tour of Engine Shed, Bristol's newest innovation hub – a £1.6 million refurbishment of Brunel's original train station and a unique collaboration between the University of Bristol, WE LEP and Bristol City Council – followed the meeting. Nick Sturge, director of Engine Shed and the Bristol SETsquared Centre, introduced Vince Cable to three fast growing, highly successful SETsquared businesses: Blu Wireless Technology, Plexus Planning and Fusion Processing. Blu Wireless Technology have just received £1 million from the Growth Fund.
"Today I'm witnessing that here in Bristol fast-growing businesses like those based at SETsquared are providing a real boost to the economy," said Cable (above right).
"We were pleased to have the opportunity to showcase some of the innovative and internationally significant projects in our region," said Colin Skellett, chair of the West of England LEP. " It was good to be able to demonstrate how the local growth fund money has helped local companies to grow.  The first round of our West of England growth fund has allocated almost £15 million to nearly 150 local businesses and this in turn has attracted more than £52 million of private sector investment.
"The LEP Board also had the opportunity to discuss with the Secretary of State what else needs to be done, in particular, to support SMEs, to develop the skills we need for a growing economy and to continue to grow our successful inward investment capabilities".
Nick Sturge, director of Engine Shed and SETsquared, (pictured above left) said:  "We were pleased to welcome Dr. Cable back to SETsquared in our new home and to be able to demonstrate some of the cutting edge technologies being developed here. He was particularly interested in the CycleEye technology from Fusion Processing and we were delighted to be able to report on the exciting level of activity within the tech cluster in Bristol and Bath."
Mayor of Bristol George Ferguson said: "Enterprise zones are an important part of the government's plans for growth across the UK. I was pleased to be able to share with the minister our dynamic plans for the future development of Bristol Temple Quarter Enterprise Zone, one of the largest regeneration projects in the UK, that will deliver mixed use development, 17,000 jobs over 25 years, a new performance arena and will be the principal new gateway for the city region."
Related articles
The deadline for the 2014 QPrize, run by Qualcomm Ventures, the investment arm of San Diego based Qualcomm Inc, is approaching.
QPrize is open to all start-ups and entrepreneurs who have raised less than US$2 million in financing and have innovative wireless or technology based products or services that can positively impact the wireless ecosystem.
One winner will be selected from each of our seven regions: Europe, China, India, Israel, Korea, Latin America and North America. The winners will be awarded a US$100K prize in the form of a convertible note. In addition, all regional winners will be invited to San Francisco to participate in our Grand Finals event for an additional $150K in prize funding. The Grand Final will be held at Bloomberg's Next Big Thing Event at the spectacular Cavallo Point on June 9-10, 2014.
For more information click here or to apply, please visit qprize.com.  The deadline for business plan submissions is April 18, 2014.
Related articles
Electronics distributors have a problem. Battling with direct competitors for number one spot in Google entails giving Google everything it needs to keep potential customers away from them. Think it can't happen with the electronics industry? Think again. Giant companies have a habit of diversifying, and trying to tap into the riches of unrelated industries. Amazon have already encroached into the industrial engineering markets with Amazon MRO.
Search for a Cortex M3 and Google provides a list of brand options, prices, and sellers. On its shopping tab, Google presents search results using the same model as used for AdWords, merchandisers have to pay to play.Based on this scenario, Google has the ability to help the users choose between chips provided by various manufacturers, then provide the user with purchasing options.
See the whole article at Is Google a threat to electronic component distributors? at Bath-based technology PR firm Publitek.
A Bristol startup has developed an entirely new way of building static memory on a standard logic process that cuts the power in half without paying a penalty in area or speed.
Silicon Basis is based at the EngineShed and is developing the tools to help chip designers add memory to their devices in a way that uses less power, reduces the number of extra chips they need and gives them flexibility to move to different process technologies.
"Fundamentally memory has some real problems everyone does it the same way," said Mark de Souza, chief executive at Silicon Basis  and formerly at memory IP supplier Virage Logic. "They all take the TSMC arrays and put them together." These arrays are specifically designed on a particular process.
Silicon Basis sees two key advantages for its technology it can save up to 50% of the power consumption and it can go below the bit cell voltage of the foundry memories. This lower voltage allows the memories to be powered by the same voltage source as the logic and so eliminates the need for a second DC-DC converter which adds cost and complexity to a design.
This also makes the technology foundry independent and scalable to new technologies such as FinFet, says de Souza. The company has produced all the models needed and is now working on 28nm silicon to prove the implementation."We use our own bit cell so we are not restricted to the foundry's Vmin which is a huge advantage," said de Souza. "Dropping the voltage makes a huge difference."
All of this comes from a new way of looking at the design of the cell which is currently being patented. "No one has seen this way of designing SRAM before," he said. "We are talking to the experts in memory design and no one has seen this way of putting memory together. Its all using standard rules and standard CMOS. Its an architectural difference that means we don't need to use sense amps and because we are using logic rules we can go down to the logic voltage floor and possibly below that."
"Our cell size is about the same as the high speed cell from the foundry," said Rob Beat, founder and chief technology officer of Silicon Basis and designer of the new cell. "There's a compromise on area in the array but because the periphery is more efficient we are competitive in area especially on the smaller RAMs."
The architecture brings advantages with the compiler that are not to be underestimated, he says. "Our single port compiler also outputs a one port register file," he said. "Because of the way the bit cell is designed we can use the same bit cell for dual port so the dual port compiler will do the dual port register file and asynchronous dual port memory." This avoids the problems of having up to five different compilers for each process technology with a significant support burden
The technology has been developed for the TSMC 40nm node and outperforms the high speed bit cell, says de Souza. "This took us a little bit by surprise as we didnt design for speed," he said. "We did a lot of work at 40nm but what we are seeing from customers is that 28nm HPM is going to be a major node and we think there will be more new designs starting on 28nm than on 40nm."
The technology is also fully compatible with FinFet vertical structures being used in TSMCs 16nm process node. "Our technology will work very nicely with FinFet right out of the box," he said. 
The technology has previously been used by Beat to develop low power FPGA fabric but has attracted more interest for the SRAM compiler. "For me, Silicon Basis starts here," said de Souza.
Startup slashes SRAM power with standard logic process – Electronics Eetimes.
Related articles
Bristol and Bath is providing £2m to boost silicon and high tech startups.
Twelve startups and small companies in the region have been awarded close to £2m ($3m) from the West of England Growth Fund, with Blu Wireless Technology awarded £1m for its 60GHz programmable IP development. The Growth Fund administers UK and European matched funds for the region and has already awarded £11.85m to SME companies.
All the companies are in the Bristol or Bath centres of the SETsquared incubator.
Bath businesses receiving funding include app developer neighbourly (£94k), Clean Energy (£27k), Citeab (£26k), Tivarri , Envolve Technologies (£132k) and CloudFind (£90k).
"I'm delighted that our companies have benefited from this investment by the West of England Growth Fund – the grants will now leverage additional multi-million pound private investments into these companies," said Simon Bond, Centre Director of Bath SETsquared and the University of Bath Innovation Centre.
Members of the Bristol SETsquared Centre in receipt of awards are Digital TV Labs (£233k), Blue Speck Financial (£220k), AptCore (£80k), Nanoscope Services (£40k) and SecondSync (£100k).
"Bristol and Bath has some fantastic tech businesses – in software, internet technology, electronics, semiconductor, biotech and across all sorts of sectors. These awards will make a massive impact into jobs growth here – and SETsquared has a track record of businesses growing steadily without failing, so these are high-value, sustainable jobs," said Nick Sturge, Bristol SETsquared Director.
Paul Wilson, chief executive of the West of England LEP, says: "Through this fund we have already invested around £14m, which has attracted more than £41 million of private sector investment into the local economy, creating or safeguarding over 1,500 jobs. High tech is a significant area of growth for us – we already compete internationally and our region is nurturing a future generation of high tech businesses."
Bristol pumps £2m into silicon and high tech 
Bristol-based gigabit wireless IP developer Blu Wireless Technology has won a £1m ($1.6m) grant from the local Growth Fund for its 60GHz IP development.
The initial markets for BWT's technology include the emerging 60GHz 'WiGig' addition to the WiFi family and high-speed wireless links for the latest 4G mobile networks based around small cells. These low cost small cells will be mounted on street furniture such as signs and street lamps.
BWT is already starting work on applying the programmble baseband technology to the emerging 5G telecommunications standard.
The company has seen the investment from the West of England Growth fund that is administering UK and European matched funding to small companies in all sectors. The company has grown from a team of 7 at the beginning of 2013 to 17 and anticipates that by the end of 2014 it will have around 30 staff.
BWT is based in the Engine Shed in Bristol, alongside a growing cluster of high tech and digital businesses."This grant from West of England Growth Fund, combined with the almost £2.4M we have raised from private investors over the last year, will allow us to complete the development of our prototype design by the end of 2014," said Henry Nurser, CEO of BWT. "BWT already has a strong working relationship with the University of Bristol and these funds will ensure that these links are further strengthened. All feedback on our technology from the multiple international companies we have been in discussion with has shown us that we have an opportunity to become leaders in these exciting new markets. We are confident that customers will buy our Bristol designed technology as soon as it's commercially available.""This is the single largest amount we've awarded from the £25 million pot and it's exactly the type of project we want to support," said Paul Wilson, chief executive of the West of England Local Enterprise Partnership LEP. "Through this fund we have already injected around £14m into the local economy, which has attracted more than £41 million private sector investment, creating or safeguarding over 1,500 jobs. High tech is a significant area of growth for us – we already compete internationally and our region is nurturing a future generation of high tech businesses."The company has shifted from developing and selling a chip to focus on IP, and last month saw a deal with Interdigital to develop technology for small cell backhaul.
Related stories:
7Gbps 60GHz transceiver IC implemented in 40nm low-power CMOS
IMEC powers ahead with 60GHz building blocks
Infineon samples 60GHz chips for backhaul
UK startup closes $3.1m Angel funding round for 60GHz wireless IP
£1m boost for Blu Wireless 60GHz – Electronics Eetimes.
The UK tech sector has seen its best performance in almost a decade according to a new report from KPMG/Markit Tech Monitor.
via UK tech sector records best growth performance for almost a decade – Electronics Eetimes.
Bristol and Bath's leading tech startups meets the founders and executives at 16 of the most exciting tech startups in Bristol and Bath to find out what attracted them to the city and where they are heading
via Bristol and Bath's leading tech startups | Technology | The Observer.
The University of Southampton has flicked the on-switch for the most powerful university-based supercomputer in England and the third largest academic supercomputing facility in the UK. 'Iridis4' will also enter the top ten of the UK's elite supercomputers.
"Southampton is a leader in High Performance Computing (HPC) and Iridis4 allows us to take another leap forward to keep pace with the needs of our world-class researchers," said Dr Oz Parchment, Director of Research Computing at the University. "There is an ever increasing demand for the use of supercomputing power for research and this new machine will provide the opportunity for even more academics to work on a greater number of projects, at faster speeds."
In a deal worth £3.2 million, Southampton's new supercomputer is powered by IBM Intelligent Cluster solutions and designed, integrated and supported by HPC, data management, storage and analytics company OCF. It is four times more powerful than its predecessor Iridis3 and has 12, 200 Intel Xeon E5-2670 processor cores, a petabyte (or one-million gigabytes) of disc space, with 50 terabytes of memory.
The new machine is one of very few in the UK to include to Intel Xeon Phi coprocessors, which can take control of some of the most demanding mathematical calculations to significantly increase its processing power. The Intel Xeon Phi coprocessors are each capable of running at one teraflop, (one trillion calculations per second).
Iridis4 will mainly be used for research by University staff and students across a wide variety of disciplines, from Engineering to Archaeology – Medicine to Computer Science. 2 It is estimated around 350 projects are likely to run on the machine in the first year.
"Staying ahead of the game in High Performance Computing is vital to help the University stay competitive. Simulation and computation enabled by HPC are recognised globally as the 'third pillar' of modern research and this investment will ensure we remain world leaders in this field," said University of Southampton Pro Vice-Chancellor, Professor Philip Nelson.
"The growth of Big Data and the availability of computing power like Iridis4 means that the range of research areas that are enabled by supercomputing continues to grow. We look forward to seeing its impact on the University's research, already recognised for the range and importance of the science conducted on the supercomputer's predecessor, Iridis3," said Steve Legg, IBM's University Programs Manager in the UK.
Iridis3 will remain in operation, providing an important resource for industrial research through the e-Infrastructure South Consortium that also includes Bristol, Oxford and University College London and operates a 'Centre of Innovation for the Application of High Performance Computing'. This was set up in 2012 with £3.7 million from the Engineering and Physical Sciences Research Council (EPSRC) to upgrade Iridis3 and install resources at Rutherford Appleton Laboratories near Oxford.
Related articles
Copyright is a thorny problem for the digital economy and companies around the world, and Google's copyright and takedown process can be a mystery that has dramatic consequences.
Bath-based IT and consultancy firm IPL specialises in data analysis and has publishes its independent report on Google's copyright notice and takedown process for links in its search results.
Using data gathered on Google's takedowns over a 12-month period between April 2012 and March 2013, IPL developed a mathematical model to show how well the process is currently working and pinpoint the internal and external factors that affect consistency.
"Our involvement on a high-profile data analysis project such as this one underlines IPL's strengths in this field and our ability to tackle the problem in an innovative way by modelling a complex process," said IPL's CEO Paul Jobbins. "We're delighted to be informing the debate on what is a very important global issue."
The report found that despite the volume of requests that Google receives having grown significantly (from less than two million in April 2012 to more than 18 million in March 2013), Google's performance in terms of timeliness and accuracy has remained consistent.
As well as enabling Google to assess its performance over time, the model can be used by other companies who have to deal with similar takedown requests to perform similar analysis, and to compare this to Google and anyone else using the model.
Moreover, by modelling the relationship between the volume of requests, accuracy and timeliness, Google and others can assess the likely impact of changes to legislation – such as the imposition of a time limit for each takedown request.
"How best to fight copyright infringement online while protecting freedom of expression is a thorny problem," said Simon Morrison, Google's EMEA Copyright Public Policy Manager. " This research shows that Google has done well at balancing these important aims even as the volume of content online has increased enormously."
You can register for free to access the report on IPL's website.
Related articles
A team from the University of Bristol has developed a way to provide feedback from a screen without touching it.
Ultrahaptics in action
The team from the University of Bristol's Interaction and Graphics (BIG) research group has used a phased array of ultrasonic transmitters to focus high frequency sound onto a target in mid-air. This would be used to provide positive feedback for a gesture-based user interface.
The research paper, to be presented at the ACM Symposium on User Interface Software and Technology (UIST) 2013 by Tom Carter from the Department of Computer Science, will unveil UltraHaptics, using ultrasonic vibrations for the first time to deliver tactile sensations to the user. The ultrasonic transducer array emits very high frequency sound waves that can be steered by changing the phase. When all of the sound waves meet at the same location at the same time, they create sensations on a human's skin.
By carrying out technical evaluations, the team have shown that the system is capable of creating individual points of feedback that are far beyond the perception threshold of the human hand. The researchers have also established the necessary properties of a display surface that is transparent to 40kHz ultrasound.
The results from two user studies have demonstrated that feedback points with different tactile properties can be distinguished at smaller separations. The researchers also found that users are able to identify different tactile properties with training.
Finally, the research team explored three new areas of interaction possibilities that UltraHaptics can provide: mid-air gestures, tactile information layers and visually restricted displays, and created an application for each. 
 
Tom Carter, PhD student in the Department of Computer Science's BIG research group, said: "Current systems with integrated interactive surfaces allow users to walk-up and use them with bare hands. Our goal was to integrate haptic feedback into these systems without sacrificing their simplicity and accessibility.
"To achieve this, we have designed a system with an ultrasound transducer array positioned beneath an acoustically transparent display. This arrangement allows the projection of focused ultrasound through the interactive surface and directly onto the users' bare hands. By creating multiple simultaneous feedback points, and giving them individual tactile properties, users can receive localised feedback associated to their actions."
Related articles