Great piece on the autonomous drone racing at UWE from the Bristol Post
Source: World's best drone pilots head to Bristol for 'Scalextric'-style race | Bristol Post
Researchers at the University of Bristol have developed a way to use nuclear waste to generate electricity in a battery. The team, led by Tom Scott, Professor in Materials in the University's Interface Analysis Centre and a member of the Cabot Institute, have grown a man-made diamond that, when placed in a radioactive field, is able to generate electricty for low power applications […]
Source: Battery uses nuclear waste for long term power -TechSPARK
The foundations for Unit DX, Bristol's first science incubator, have been firmly laid and construction has begun. The scientific entrepreneurs of the city are welcoming the incubator with open arms as the build will provide much-needed support for science-based startups, as well as create a new dynamic to Bristol's ever growing tech scene. "We decided to […]
Source: Bristol welcomes its first science incubator: Unit DX -TechSPARK
The success of the globally significant tech cluster goes back many years
Source: Where did the Bristol and Bath tech cluster come from? -TechSPARK
Researchers from the University of Exeter have pioneered an innovative new way to use graphene to make flexible screens more effective and efficient.
By using GraphExeter – a material adapted from graphene to be more transparent, lightweight and flexible for conducting electricity through an extra layer of ferric chloride – the team have increased the brightness of flexible lights by up to almost 50 per cent.
The research has also shown that using GraphExeter makes the lights 30 per cent more efficient than existing examples of flexible lighting, which are based on state-of-the-art commercial polymers.
The research team believe the technology could help significantly improve the viability of the next generation of flexible screens for smartphones or wearable electronic devices such as clothing containing computers or MP3 players.
"This exciting development shows there is a bright future for the use of GraphExeter in transforming flexible lighting on a mass scale, and could help revolutionise the electronics industry," said one of the lead researchers, University of Exeter physicist Dr Saverio Russo.
"Not only are lights that use GraphExeter much brighter, they are also far more resilient to repeated flexing, which makes 'bendy' screens much more feasible for day to day goods such as mobile phones."
Currently, flexible screens are still in their infancy and although they are useable, the size of the screens are limited by the materials used for mass production, which can cause a visible gradient of brightness as the size of screen increases.
By substituting graphene for GraphExeter, the team of researchers were able to create a lit screen that showed a far greater and consistent light than has previously been possible. Furthermore, the screens were more resilient to continued flexing, meaning that they have a longer shelf-life before needing to be replaced.
Dr Monica Craciun, also from the University of Exeter added: "The next step will be to embed these ultra-flexible GraphExeter lights on textile fibres and pioneer ground-breaking applications in health care light therapy."
At just one atom thick, graphene is the thinnest substance capable of conducting electricity. It is very flexible and is one of the strongest known materials. The race has been on for scientists and engineers to adapt graphene for flexible electronics. This has been a challenge because of its sheet resistance, graphene dissipates large amounts of energy.
In 2012 the teams of Dr Craciun and Profesor Russo, from the University of Exeter's Centre for Graphene Science, discovered that sandwiched molecules of ferric chloride between two graphene layers make a whole new system that is more than a thousand times a better conductor of electricity than graphene and by far the best known transparent material able to conduct electricity. The same team have now discovered that GraphExeter is also more stable than many transparent conductors commonly used by, for example, the display industry.
GraphExeter LED video
A team of 5G engineers from the Universities of Bristol and Lund has once again set a new world record for wireless spectrum efficiency, less than two months after setting the first one.
In an experiment using 128 base station antennas, the research group managed to serve 22 users, each modulated with 256-QAM, on the same time-frequency resource.  With an identical frame structure they used in theprevious experiment, this would equate to a rate of 145.6 bits/s/Hz on a single 20 MHz radio channel.
The team beat its earlier record of 79.4 (bits/s)/Hz for 12 users set in March, and the rate of 71 (bits/s)/Hz that Facebook achieved for 24 users last month with its 96-antenna ARIES array.
The group's latest achievement with massive multiple antenna MIMO arrays, which are cellular base stations with dozens of antennas deployed at the base station, shows that this technology could deliver ultra-fast data speeds to more smartphones and tablets than ever before.
Industry has said it will require a 1,000-fold increase in capacity in order for 5G to function as anticipated.  Massive MIMO technology is important if increased capacity is to be reached but it is thought that much of the 5G capacity can and will come in the longer term from using 5G technologies such as millimetre-wave (mmWave) and beamforming.
"Unlike at mmWave frequencies, below 6GHz, very little new spectrum is anticipated for 5G services," said Professor Andrew Nix, Dean of Engineering and Head of the CSN Group. "To meet capacity demands in the microwave bands the only solution is to deploy technologies offering radically enhanced spectral efficiency; hence the global importance of massive MIMO and the significance of smashing through the 100 bits/sec/Hz barrier."
In its demonstration conducted in the atrium of Bristol's Merchant Venturers Building, the team used flexible prototyping platform from National Instruments (NI) based on LabVIEW system design software and PXI hardware.
The hardware behind this demonstration was provided to Bristol University as part of Bristol Is Open, a joint venture with Bristol City Council that aims to become the world's first Open Programmable City
Spectrum and power efficient wireless communications are core to Bristol University'sCommunication Systems and Networks (CSN) Group and the EPSRC Centre for Doctoral Training (CDT in Communications as well as to the Department of Electrical and Information Technology at Lund University.
Liang Liu, Associate Professor with the Faculty of Engineering at Lund University, said: "In addition to investigating spectrum efficiency gains, an initial power control algorithm was tested, users were placed in different locations and use of the equipment over night to obtain calibration data for comparison purposes with the Lund set-up"
Fredrik Tufvesson, Professor of Radio Systems at Lund University, added: "Field trials in different deployment scenarios is needed to validate the concept of massive MIMO and we are looking forward to the future mobility test at both universities"
Ove Edfors, Professor of Radio Systems at Lund University, commented: "A true team work that with great results. Our postgraduate students Joao Vieira and Steffen Malkowsky did a great job together with the Bristol team, Paul Harris, Benny Chitambira Wael Boukley Hasan, Henry Brice, Siming Zhang and our host Mark Beach."
Mark Beach, Professor of Radio Systems Engineering in the Department of Electrical and Electronic Engineering and Manager of the EPSRC CDT in Communications, explained: "Rapid deployment and experimentation of this scale and complexity was made possible through collaborative efforts of post graduate students and academic staff at both Universities. The results are a true testament of our efforts and a noteworthy contribution towards the evolution of 5G."
Bristol is one of only two cities in the UK to be named as smart city 'Leaders', scoring 80.2 in the Smart Cities Index just behind London at 80.5
The UK's first Smart Cities Index has named Bristol as the country's leading smart city outside London and leader of the pack for digital innovation. The city is the highest performer in four out of 10 evaluation criteria: digital innovation, stakeholder engagement, projects implementation and delivery of digital strategy
The report by Chinese tech company Huawei compares and evaluates the 10 leading smart cities in the UK with the aim of celebrating best practice and identifying challenges which need to be overcome for cities to become smarter.
Bristol and London have set themselves apart from the others through their clarity, breadth and inclusiveness of their smart city visions and planning, and are leading the way in implementing significant projects at both the pilot and full-scale levels. The other eight cities have been identified as Contenders, Challengers and Followers.
Bristol is particularly strong in the digital innovation category, which evaluates the city's strategy to develop and exploit digital technologies and services, scoring the top mark of 92 out of a possible 100 points. It also comes out top for stakeholder engagement, implementation of projects and delivery of the city's digital strategy. Bristol's overall score in the Smart Cities Index is 80.2, just behind London which scored 80.5.
Smart Cities is a term which is used to describe a city which uses technological innovation to deliver services in an economically viable and environmentally sustainable way. Smart cities are being built on an intelligent urban infrastructure of connected devices.
"To be named as the top city for digital innovation and one of only two smart city leaders in the UK is fantastic news for Bristol," said Rick Chapman, high tech sector specialist at Invest Bristol and Bath – the inward investment agency for the region. "This is testament to the city's extensive smart city strategy and ambitious goals but also to its commitment to delivering on projects and working well with communities and stakeholders to make them happen. Bristol is fast becoming known as a national and international digital hub and this report cements our position as leading the UK in this sector."
Huawei has 15 offices across the UK and in 2014 chose Bristol to be its home for a new research & development centre because of its talent pool and position as a hub for cutting-edge innovation.
"Bristol is a city that is driving the UK's digital agenda, highlighted by its pioneering smart cities innovations," said Gordon Luo, CEO, Huawei UK. "We opened our Bristol R&D centre in 2014 as part of Huawei's UK Innovation Programme, precisely because we were attracted by the highly-skilled technology professionals in the area and the city's open mindset towards innovation. Our work researching ICT chips, software, and analogue chip technology in Bristol is genuinely world-class and is part of that city-wide drive towards a smarter, tech-driven future."
Earlier this year, Bristol was identified as the most productive digital tech cluster in the UK according to the Tech Nation report. It was also named the only fast-growing and globally-significant high tech cluster in the UK by McKinsey & Co/Centre for Cities in 2014.
Huawei's report also takes particular note of Bristol's strengths in open data access, energy innovation and community engagement. For example, its Playable City initiative has brought together artists and designers from the UK and beyond to experiment and prototype playful interventions that use creative technologies to rethink public space (see case study below).
Clare Reddington, creative director at Watershed – Bristol's cultural and digital creativity centre, says: "All over the world governments and technology companies are investing in smart systems for cities, using networks and sensors to join up services and collect data, as a drive for efficiency. Playable City is born out of Bristol's unique take on people-centred technology solutions and the belief that our future cities need to be democratic, surprising and inclusive to remain relevant and engaging. We are delighted we have been able to take this uniquely Bristolian way of thinking and share it with the world."
Download Huawei's report HERE
The other cities identified in the report are Birmingham, Glasgow, Manchester, Milton Keynes, Leeds, Peterborough, Nottingham and Sheffield.
Bristol City Council is inviting developers, app builders and others interested in improving  the city to sign up for a workshop of digital exploration and innovation.
Researchers from the University of Southampton and the Institut d'Optique in Bordeaux, France have devised a new approach for controlling light in a silicon chip that could make them programmable.
Silicon photonics are forming the backbone of next-generation on-chip technologies and optical telecommunication, which are aimed at a wide range of emerging applications including optical interconnects, microwave photonic circuits, and integrated optical sensors.
The function of a photonic chip is usually hard-wired, but having reconfigurable optical elements would allow light to be routed flexibly, opening up new applications in programmable photonic circuits.
Traditional spatial light modulators use liquid crystals or micromirrors to provide many independently controllable pixels, and this has revolutionised optics in recent years, with many applications in imaging and holography and adaptive optics.
In their new work, presented in the April issue of the journal Optica, the team makes use of multimode interference (MMI) devices which are usually fixed. However, the team shows that different modes travelling through the MMI can be dynamically controlled using a femtosecond laser. This acts to effectively shape the transmitted light, allowing some modes through and restricting others.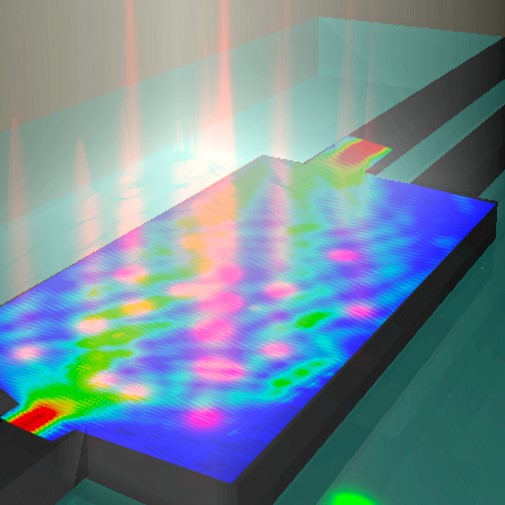 Using a silicon-on-insulator 1 x 2 multimode interference splitter with a projected pattern of perturbations induced by the femtosecond laser, the perturbation pattern achieves routing of light to a single output port with 97 per cent efficiency, essentially making the device programmable.
"We have demonstrated a very general approach to beam shaping on a chip that provides a wide range of useful functionalities to integrated circuits. The integrated spatial light modulator turns conventional silicon photonics components into versatile reconfigurable element," said lead author Roman Bruck, a postdoctoral researcher at the University of Southampton.
Practical applications of this technology will include all-optical reconfigurable routers, ultrafast optical modulators and switches for optical networks and microwave photonic circuits as well as wafer-scale optical testing of photonic chips. More work is needed to develop these ideas into practical applications.
Principal investigator Professor Otto Muskens, from Physics and Astronomy at the University of Southampton, said: "There are many new directions to explore, from gaining a deeper understanding to application of the new concepts into real-world devices. This is a potentially disruptive new approach toward field-programmable chips which can enhance and complement existing strategies, or even partially replace current technology."
The study 'All-optical spatial light modulator for reconfigurable silicon photonic circuits' R. Bruck, K. Vynck, P. Lalanne, B. Mills, D. J. Thomson, G. Z. Mashanovich, G. T. Reed, and O. L. Muskens, Optica 3(4), 396-402 (2016) can be viewed at https://www.osapublishing.org/optica/abstract.cfm?uri=optica-3-4-396
http://www.southampton.ac.uk/weareconnected
Bath-based ContinuumBridge has launched an intelligent, connected IoT device called Spur.
This is aimed at service providers in the facilities management, retail, leisure and hospitality industries to provide an intelligent, easy-to-use means for service users to initiate a request or report an issue and provides the user with an immediate acknowledgement.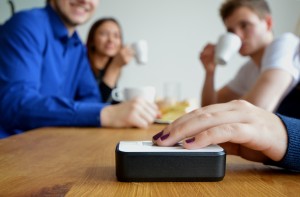 The physical part of Spur is a call button that integrates a display whose message indicates to the user what they are able to request/report and then provides instant visual feedback confirming the outcome. For example, if installed by a coffee machine the display could say, "Push here if this machine requires more coffee" and then after pressing the button the display could change to say, "More coffee for this machine has been requested". Similar scenarios can be applied in other situations, such as reporting that a printer or photocopier is out of toner, or that a toilet needs cleaning. Multiple call options are possible by cycling the e-ink display, for example, requesting waiter service or asking for the bill in a restaurant, and perhaps subsequently rating the customer experience.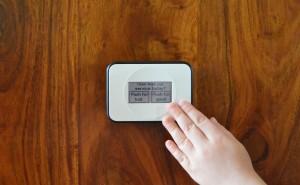 "During Spur's development we worked closely with our customers and are confident that it meets genuine needs. The capability that lies behind the button provides numerous benefits for both the service provider and end‑user or customer," said Peter Claydon, CEO of ContinuumBridge. "
The technology uses 868MHz wireless for low power connections, allowing a battery life of up to 5 years. A gateway bridge, which only requires a power outlet, provides connectivity between the wireless buttons and a server using a cellular modem so there is no need for network connection. Service providers access the server through a fully programmable but easy to use web portal using the Wisp technology developed by ContinuumBridge. This provides comprehensive reporting that is available through the web site or via email, SMS or data-sharing with a third party database. The whole Spur solution is safe-guarded with state-of-the-art, end-to-end security.
"We were trying various wireless technologies such as Z wave, Zigbee and WiFi for the battery life and the range of the radio," said Claydon. "A mesh is OK if you have lots of them but try telling an installer that. So we worked backwards from those requirements. The e-ink display is great for low power, so we've uses a standard 868MHz radio with our own lightweight protocol so that you only turn the radio on when someone presses the button and once an hour to check for updates. At 10 pushes a day that gives us a 5 year battery life and 300m line of sight connection or three floors of an office building from the 868MHz radio," he said.
"The gateway is the same bridge that we have already developed which is a Raspberry Pi at heart with the 868MHz radio and a 3G cellular modem so you don't have to get into someone's IT infrastructure and the bandwidth required is so low," he added.
Spur is undergoing trials now in the UK and volume production will commence in mid-2016. ContinuumBridge is looking for distribution partners throughout Europe with North American and other geographies anticipated in the future.
Related articles
Leading cloud computing technology developers are coming to Bristol this week for the UK's first Voxxed Day conference.
The conference cover the latest trends and technologies in cloud computing and development, from Infrastructure and Platforms (e.g. IaaS & PaaS) , Big Data and Analytics, Java and JVM languages, Continuous Delivery and Deployment, Microservices and Containers, Functional Programming,  Internet of Things, DevOps, Performance & Optimisation, Architecture & Security and Development Methodologies.
The region has a well established base of companies making world-class cloud technology with a global reach – including industry leaders like Oracle, HP, IBM, Cray and Amazon as well as fast growing startups such as ClusterHQ, JustOneDB and ForgeRock. Many of these companies have started to work together as part of the HBB Cloud Special Interest Group (SIG) to help develop the region as a globally established centre of excellence for cloud computing.
The conference programme is here
You can sign up here for the conference on the 25th Feb at the Watershed 
Phil Bates was a key influencer in bringing Voxxed Days to Bristol. As the leader for Oracle's cloud development centre in Bristol, and one of the champions for the cloud technologies cluster around Bristol and Bath, he said;
"A Voxxed Days event at the Watershed is great news and a recognition of the strength of the software development community in the area, particularly with respect to cloud computing and big data / analytics. Oracle has significant and expanding cloud and business intelligence/analytics product development teams in Bristol. The south-west is a great place to develop technology and conferences like Voxxed Days provide a great opportunity for developers to share expertise, learn from each other's experience and get a handle on what's next in Java, Cloud and Big Data/Analytics."
Each Voxxed Days is spearheaded by local communities so each event retains a unique regional flavour, whilst being part of the overall Voxxed movement. "I'm delighted we can add Bristol to the list of cities hosting Voxxed Days events in 2016," said Mark Hazell, Director of VOXXED, the equivalent in Europe of the Java One conference in the US. "Voxxed Days is all about sharing expert software development experience directly with developers on the ground. Attending the event will equip developers from the area with the kind of knowledge that will improve their day-to-day efforts The Bristol area already stands out as a great location to be a developer, with it's vibrant communities and willingness to share, and we're please that Voxxed Days will help grow that effort."
"High Tech Bristol & Bath CIC was set up to support the cluster around the city regions and high profile events like this are excellent vehicles for doing that. They afford fantastic opportunities for knowledge sharing and developer engagement, together with providing a real boost to our international profile as a great place to be an engineer in the high tech industries," said Dr John Bradford, High Tech Bristol & Bath.
Related articles
Bristol startup Zeetta Networks has raised £1.25m to commercialise its software-defined networking technology to smart enterprises and Internet of Things (IoT).
The company, a spin-out from the University of Bristol's High Performance Networks group, is an internationally renowned team for their expertise in software-defined networking and network virtualization, focusing on the design, development and marketing of open networking solutions.
Zeetta has developed a unique open networking platform called netOS based on industry-standard hardware and powerful orchestration software which manages, automates and monitors the whole network while significantly reduces its costs. This offers a "USB-like", plug-n-play management of different types of connected network devices and enables the construction of virtual "network slices", for example separate logically-isolated sub-networks for the deployment of business-to-business or business-to-consumer services, such as Ultra HD wireless video distribution, city-wide Wi-Fi, IoT and other applications. This is being used for the Bristol is Open network across  the city.
The funding, which is being provided by existing investor IP Group and new investor, Breed Reply, means that Zeetta can significantly accelerate its growth plans. This will enable the company to expand its commercial and technical teams and target new markets.
Zeetta Networks has been a virtual member of the Bristol SETsquared Centre since September 2015 and they will be looking to take up residence in the Bristol SETsquared Centre, housed in the iconic Engine Shed, as soon as possible.
"Since the formation of our company last May  we have achieved many impressive milestones including considerable revenues from our first customers and grant funding from the European Commission through our participation in the REPLICATE lighthouse project. The investment from IP Group and Breed Reply cements the confidence of the market in our technology and our team," said Vassilis Seferidis, CEO of Zeetta Networks.
Breed Reply, Reply's advanced incubator, funds and supports the development of start-ups on the Internet of Things (IoT) in Europe and the USA. Based in London, with operational offices in Italy and Germany, Breed Reply supports entrepreneurs and young talent by quickly bringing new ideas to the market. This is done via funding at seed and early stage level; considerable support with significant know how transfer of business, managerial and technological expertise; and medium-term involvement to establish start-ups in their market. In the IoT sector, the main areas Breed Reply focuses on are fitness and wellness, healthcare, smart home, manufacturing, transportation and energy.
Bristol is building on its strength in driverless car technology, hosting a £5.5m project to test out communications systems for driverless cars, while Bristol companies are involved in projects around the country.
The three year FLOURISH project links several members of the current VENTURER driverless car project with Airbus, Age UK and artificial intelligence experts React AI to develop innovative new tools to improve the understanding of user needs and expectations of connected and autonomous vehicles. It will be based in the Bristol City Region and will test capabilities in both urban and suburban networked environments.
The UK is rapidly becoming one of the best places in the world for companies to develop their Intelligent Mobility business," said Roland Meister, Head of Transport at Innovate UK. "Driven by our work with the Centre for Connected and Autonomous Vehicles this competition has connected together the UK's fantastic automotive industry, the research base, the insurance sector, public authorities with high growth businesses working in human behavioural science, telematics, information technology, communications, simulation, advanced sensor systems and machine learning."
Fusion Processing, based at the EngineShed in Bristol, is part of the £2.2m Insight project to develop driverless shuttles with advanced sensors and control systems and trial them in city pedestrian areas, with a particular focus on improving urban accessibility for disabled and visually-impaired people.
Researchers from the universities of Bristol and Keio with industrial partners have unlocked 80 THz of fibre-optic bandwidth that will enable future exascale data centres and transform 5G networks.
A consortium of leading researchers, care providers and robotics experts have received a major award of over £2m from Innovate UK to develop a modular robotic solution for the home to revolutionise long-term care by giving people the choice to stay independent in their own homes as they age.
The CHIRON project is developing a connected system of modular robotic components, which can be adapted to different assistive tasks. CHIRON's various components will be designed to be mixed and matched. This will enable the person using CHIRON to undertake a wide range of domestic and self-care tasks independently, which for some people could mean that their carer would then have more time to spend providing valuable social companionship. The project will create a prototype that will lead to the development of a commercially viable product.
The CHIRON consortium is led by Designability, formerly the Bath Institute of Medical Engineering and now a national charity specialising in assistive technology to enhance people's lives. The key technology partners are Bristol Robotics Laboratory (BRL) and Shadow Robot Company, experts in conducting pioneering research and development in robotics. Award winning social enterprise care provider, Three Sisters Care will bring user-centred design to the core of the project, with Telemetry Associates providing project management support. Smart Homes & Buildings Association, specialists in telecare and assisted living, will bring sector knowledge to the project to support commercialisation.
The project will draw upon the consortium's expertise of working with end-users, clinicians, and health and social care providers, to develop an effective robotic solution that offers adaptability to a person's changing needs.
Designability Director, Professor Nigel Harris said: "We are tremendously pleased to contribute to this work, focusing on the Long Term Care Revolution. This project is all about technological innovation and perfectly compliments other work that looks at social innovation."
A new application programming interface (API) created by Bristol City Council will provide easy and free access to a huge wealth of transport data in one place, making it possible for innovative technologies to be developed.
The Bristol API (Transport) supports the Council's approach to opening up data sets, as it already does through the Bristol Open Data portal and is being further developed by the Bristol Is Open project. The wider aim is to work with the tech community to explore ways to use and present the data framed around relevant and actual transport challenges in the city.
A transport-themed Challenge Event at Watershed on Saturday 23 January from 10:00-17:30 is offering £1,000 worth of customised app design assets from creative agency Big Mallet for the best application using the API from app and software developers, as well as the broader tech community.
The new web-based service has been specifically designed to provide information such as live bus and train times, stop locations, route maps and other data. Developers interested in building apps, websites, connected devices or even customer information displays will be able to use transport data for Bristol and the West of England region completely free for the next year.
The Bristol API is not restricted to public transport as it also gives instant updates on occupancy in local car parks as well as electric vehicle charging locations. It is currently possible to provide live statistics on bicycle dock availability in London and New York, meaning the API will be attractive to developers who have global success in their sights and further adding to the benefits of The Bristol API.
The council's City Innovation team appointed UrbanThings earlier this year to develop the API. UrbanThings is the company behind the successful BusChecker app, which has been downloaded more than two million times worldwide and has received significant critical acclaim. The Innovation team are therefore confident that this collaboration will be hugely beneficial for Bristol citizens and businesses.
"The introduction of the Bristol API (Transport) is a huge step for Bristol City Council and could improve predicted timings as well as help with journey planning for the public," said Stephen Hilton, Director of Bristol Futures. "Using data in this way shows how the council is actively trying to tackle the challenges in the city by collaborating with the tech community and leaders in the industry such as UrbanThings."
"UrbanThings is delighted to be harnessing the Internet of Things to empower intelligent mobility," said Director of UrbanThings Carl Partridge. "We were delighted to be selected to provide this cutting-edge API and we're hoping that developers and engineers are inspired to build some amazing innovations. We look forward to working with them to further enhance the API and help Bristol become a world-leading Smart City."
The UK government is to launch a new framework to allow small digital developers in the regions, especially the SouthWest, to bid for work.  This is a major opportunity for small companies to bid for government contracts, and there is a deliberate focus on regional companies.
In February 2016, the Government Digital Service (GDS) and the Crown Commercial Service (CCS) will replace Digital Services 2 (DS2) with Digital Outcomes and Specialists (DOS). All suppliers who are currently on the DS2 framework will need to apply to Digital Outcomes and Specialists, and small suppliers that found DS2 too time-consuming are being encouraged to apply for the new framework.
The aim of the Digital Marketplace is to make the commissioning process simpler, clearer and faster. Buying and selling through the Digital Outcomes and Specialists framework will reduce the time and cost traditionally associated with procurement and allow buyers and suppliers to talk to each other so they can decide whether there is a good fit.
This will be broken down into four separate categories, the first being suppliers who can provide teams to build and support a digital service.  A digital outcome could be a discovery phase to create an information systems vision of an NHS department. This can include performance analysis and data, security, support and operations, testing and auditing or user research. The second category is Digital Specialists who can work on a service, programme or project. A digital specialist's work must have deliverables and a defined scope. This could include a business analyst,  content designer or copywriter, cyber security specialist, developer, technical architect or product manager.
The other two categories are aimed at suppliers who can offer user research-related services, from user research studios to user research participants.
One way the application has been simplified is that the majority of the evaluation of suppliers won't be carried out at the application stage as it was with DS2. As each buyer has specific requirements, they'd prefer to evaluate suppliers themselves. As a result, under the new framework, most of the supplier evaluation will be done by buyers when suppliers respond to a brief for a specific piece of work. However, buyers may use the information that suppliers provide on their services in their application to help them evaluate. There will also not be a cap on the number of suppliers on the framework, so there are significant opportunities for smaller companies in the region to benefit from government contracts.
The draft Invitation to Tender (ITT) documents were published last week (as detailed in the High Tech Newsletter), including the framework agreement, supplier declaration and the service description questions. The Digital Outcomes and Specialists framework is now open for applications, and suppliers can create an account in the main navigation on the Digital Marketplace homepage.
Bristol is aiming to create a 3D-printed large-scale city model that can have real-time data and sophisticated analytics projected onto it, for example, showing real-time pedestrian and traffic flows; the energy use of buildings or even the air quality at different times of the day or night and at different times of year.
The really ambitious part is to make the model into an immersive digital environment that will use virtual and augmented reality and haptic touch technologies to allow people to 'leap-in' to the city model. Bristol citizens will be able to experience new developments before they are built and see how they impact on the city's systems. This will allow different scenarios for future developments to be explored as if they are real, and for the impact on energy, transport, air quality, noise, light and other factors, to be fully understood.
Bristol is well placed to develop a city 'Brain' as a large investment has already been made in hardware and software in Bristol is Open to create a city research and development platform.
Bristol can pioneer this approach thanks to its credentials as a high tech and sustainable city, says Stephen Hilton, Director of Bristol City Council's Bristol Futures team, with two leading universities and businesses at the cutting edge of developing technologies that utilise data, augmented reality, sensors, analytics, visualisation, virtual environments and interactive digital media.
The project was announced at the 2015 UN Climate Change Conference (COP21) in Paris, and Bristol City Council is now seeking £10-15m investment to build the full model in such a way that it can be openly shared with cities around the world.
… as Bristol is Open boosts partners
Smart city networking testbed Bristol is Open has added two new partners, bringing projects from Rolls Royce and technology licensing firm InterDigital.
As a Project Partner in the UK's first interactive Data Dome, Rolls Royce will investigate the use of the fully immersive hemispherical display system in the 100-seat facility, for high-end visualisation of its products and associated big data. The first visualisation is of the Trent XWB, the world's most efficient aero engine.
"Visualising and creating value from a wealth of data is really important to us, and this partnership provides us with a great opportunity to tap into the Bristol and Bath area's rapidly growing innovative digital media capabilities. It's also a great opportunity to engage and inspire young people with immersive sound and vision experiences of our products and show them how exciting engineering can be," said Paul Stein, Chief Scientific Officer at Rolls-Royce.
Housed inside At-Bristol Science Centre's Planetarium, the Bristol Data Dome is the only projection environment in the world connected to a city-scale high performance network and a high performance computer and is one of the highest definition digital projection environments in the UK today.
"Our world is overwhelmed by data, making a lot of it inaccessible and unintelligible. Visualising data in a shared environment like the Bristol Data Dome enables people to identify new patterns, and jointly examine new ways of seeing the world, the city, and products and services," said Paul Wilson, Managing Director of Bristol Is Open. "Rolls-Royce has understood this, and been quick to spot the opportunity the Data Dome provides. We're very pleased to announce this partnership with them, and to exploring similar partnerships with others."
Mobile technology research and development company InterDigital licenses key patents for wireless systems and has also joined Bristol is Open.
"Bristol Is Open is an exciting initiative with a vision that aligns perfectly with InterDigital's 5G and IoT focused research and development efforts. Collaboration on this innovative project serves as another positive example of InterDigital's strong and open innovation model," said Alan Carlton, Vice President of InterDigital Europe.
Related articles
The December issue of High Tech News is now out, with the latest news from the Bristol and Bath region and a roundup of some of the key events over the year. This definitely highlights the significant scale of activity here and in the wider area. Sign up for free and download it here .
This has been, on the whole, a great year for technology in the Bristol & Bath region. With new entrants such as Cray and Oracle, large investments in existing startups such as ClusterHQ (p6) and Ultrahaptics (p3), and new venture funds (p3), there is a distinct feel of optimism. All of this is charted in the roundup that starts on page 6 and shows the strength of the technology development throughout the region in the last year.
There have been significant changes though: we had to say goodbye to NVIDIA, and we didn't win the national centre for smart city research, but this has opened up new opportunities across the region. A new smart Internet Lab at the University of Bristol (p4) and new partners for Bristol is Open highlight how strong the technology is in the region, and this was demonstrated at the recent UN Climate Change conference with the launch of the Bristol Brain (p5).
This optimism is also bringing new conferences to the region, with a cloud technology conference called Voxxed days coming to the UK for the first time in Bristol in February (p14).
Awards season is also upon us, and the region is hosting not one but two in the middle of February, with nominations closing in the first week of January. The Sparkies (p14) and the Edge Awards (p15) are celebrating all the great technology, innovation and people in the region, and the emergence of two such award programmes highlights how far the region has come in a few years.
Invest in Bristol and Bath are also looking for Ambassadors region to help boost the profile of the region (p12), and there are opportunities for small companies in the regional to access government contracts thorough a new Digital marketplace (p13). For more information about the High Tech activity in the region, please sign up for the newsletter.
Related articles