CSR expands in Bristol with new R&D centre
Cambridge Silicon Radio (CSR) has opened a new Research and Development facility in Bristol to drive further innovation in WiFi technology.
The new site, opened today, is staffed by 33 engineers from a wide range of companies in the area such as ST, Nokia and Imagination Technologies and from all around the world, including India, Italy, Spain and the Czech Republic.
"We were building a WiFi team in Bristol but we needed a step change in capability," said Joep van Buerden, CEO of CSR at the opening (below). "We had the opportunity to acquire the WiFi team lock stock and barrel from ST-Ericsson 16 months ago but then we discovered how good a place Bristol was. There is a steady supply of graduates from the university and leading companies around with a vibrant community of engineers with all sorts of expertise."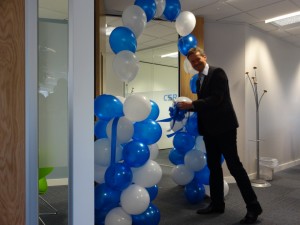 Since the opening of CSR's original R&D site at the Bristol & Bath Science Park in 2012, the size of the team has grown to 33 employees and CSR expects to continue this expansion. The new R&D facility, at Almondsbury in Bristol, will better support the needs of the existing team and enable growth over the coming years.
This expansion will create a number of job opportunities in the local area, especially for graduates from South West universities. "We have some spare capacity but I could very easily see this office growing further," said van Beurden.
"At CSR, we're passionate about developing cutting-edge technology that helps our customers turn great ideas into market leading products, and to do that we need to invest strategically in R&D," said Anthony Murray, Senior Vice President, Business Group at CSR. "That's why we're opening this new, larger facility in Bristol. Bristol has a vibrant technology scene and with high quality universities that are developing the next generation of engineering talent on our doorstep it is a great place to expand our R&D capabilities."
Related articles
Comments