A tiny village outside Bath has become the first in the country to have high speed fibre broadband installed from scratch.
The village of Claverton has just 70 houses and no broadband infrastructure, so it was not on the list for broadband access, despite being in a valley just a few miles outside Bath and almost next door to the city's world class university. One of the reasons for this is the financial modelling used by infrastructure provider Openreach, which assumes a 20% takeup of services. The cost of installing fibre across 4km to reach the village for just a few houses was uneconomic.
The residents of the village didn't take no for an answer, and as this included several technology and telecoms executives and lecturers from the nearby University of Bath they investigated many different options over the last few years, including a mesh  network over the hill to a connection point. Two years ago they started negotiations with Openreach, and part of this was to change the financial model. To do this, the village has partly funded the installation. All the houses in the village were part of the scheme, on the basis of paying what they could afford. Several home-based businesses contributed more, but access was not dependent on the contributions. Instead, this demonstrated to Openreach and service provider BT that the demand for the service was much higher than the expected 20% and as a result reduced the amount the village contributed. However, there was a clear argument that having high speed fibre broadband increased the value of their homes, and so far the uptake is 40% and rising.
Twelve fibres were installed on the aerial route alongside the copper phone cable, connecting to a new box in the village with Huawei's termination equipment. Just one fibre is lit for broadband, and as this is shared between just 70 homes rather than the usual 200 to 300 there will not be a problem with contention. This also leaves the village well placed for the next generation G.fast rollout of speeds of 400 to 500Mbit/s in 2016 and 2017.
"We realised the high costs involved meant Claverton would not be upgraded as part of BT's normal commercial fibre broadband roll-out for some time, so we set about working with the company to jointly solve the problem," said Dr Rodger Sykes, chairman of software startup Thalia. "It has been hard work over three years to get to where we are today both for the residents of Claverton and the BT people involved, but we have worked together very well. Claverton residents really appreciate the benefits superfast broadband can bring and are excited at the thought that this project provides everyone in the community with the kind of speeds we could only dream about having in the past. It is significant that almost every Claverton household has made a contribution to the village's superfast broadband fund. Because of the distance the village is from the local telephone exchange and a roadside cabinet, most residents were previously getting download speeds of less than 1.5 megabits per second (Mbps), but now our internet experience has been transformed."
BT also invested in the project alongside Openreach. "The people of Claverton are true national trail-blazers and are setting the pace for rural communities through their collaboration with BT," said Bill Murphy, managing director of next generation access for BT, who was at the village for the launch of the service  "Elsewhere, we're working in partnership with local authorities and communities to make high-speed broadband available in the more challenging areas of the UK. There are many examples of us doing so, but this is the first village to work with us on creating an entirely new broadband network for the local community. Given the focus on delivering superfast broadband in this region, it is no wonder the Organisation for Economic Co-Operation and Development (OECD) Wellbeing report last year listed the South West as best UK region for household broadband access."
Related articles
The Meteorological Office in Exeter is to spend £97m on a new supercomputer system that will be the biggest in Europe when it is up and running. This will also open up opportunities for open data operations alongside the Met Office campus.
The system will be based around the newly announced Cray XC40 and other next generation Cray XC systems with next generation Intel Xeon processors providing performance of 16,000 teraflops (16PFlops) from 480,000 cores. This will provide 13 times the performance of the current IBM supercomputer but puts it in the middle of the global performance range by the time it is full operational in 2017 (see chart from the top 500  supercomputers). This is Cray's largest contract outside the US and follows the establishment of Cray's R&D Centre in Bristol.
"This will make a real meaningful difference to the SW," said Dave Underwood, Deputy Director of High Perf Computing at the Met Office, speaking to SW Innovation News. "We will have 17Petabytes of storage – this is high tech and we are doing it in the SouthWest."
He sees the opportunity for companies to cluster around the supercomputer on the Exeter Science Park to take the data outputs from over 10 million weather observations a day that create an atmospheric model for 3,000 tailored forecasts and briefings each day. It is also one of only two centres in the world that provide forecasts of weather above 25,000 ft. Companies will have to be co-located due to the bandwidth requirements.
Storage bandwidth is also vitally important, and the next-generation Cray Sonexion storage solution will be delivered in phases and will include more than 20 petabytes of storage capacity, running at speeds of more than 1.5 terabytes per-second of bandwidth. Cray's Sonexion storage system combines Cray's Lustre expertise tightly integrated in a unique design that allows for maximum scalability. Management and operations are simplified through an appliance design with all storage components including software, storage and infrastructure.
Today's supercomputer uses 5.5MW of energy, which will rise to 12MW when the new system is fully up and running in 2017 as it runs at 99.9% utilisation, says Underwood.
"We are very excited about this investment in UK science," said Met Office Chief Executive Rob Varley. "It will lead to a step change in weather forecasting and climate prediction, and give us the capability to strengthen our collaborations with partners in the South West, UK and around the world. The new Cray supercomputers, together with improved observations, science and modeling, will deliver better forecasts and advice to support UK business, the public and government. It will help make the UK more resilient to high impact weather and other environmental risks."
"The award is symbolic for Cray on a number of fronts — it demonstrates that our systems continue to be the supercomputers of choice for production weather centers across the globe, that our close relationship with Intel is providing customers with enhanced capabilities today and into the future and it reinforces the role that Cray plays in impacting society on a daily basis in a wide range of areas,"  said Peter Ungaro, president and CEO of Cray. "The Met Office is both a pioneer and leader in weather and climate services, and we are excited that Cray supercomputers and storage solutions will assist them in achieving their important and complex mission of informing citizens and industry how the weather and climate will affect them now and in the future."
The XC40 supercomputers include Cray's Aries system interconnect; a network topology called Dragonfly that frees applications from locality constraints; DataWarp applications I/O accelerator technology; innovative cooling systems to lower customers' total cost of ownership; the next-generation of the scalable, high performance Cray Linux Environment supporting a wide range of applications; Cray's HPC optimized programming environment for improved performance and programmability, and the ability to handle a wide variety of processor types in a tightly-integrated system infrastructure.
The most powerful supercomputer in Europe at the moment is at the Swiss National Supercomputing Centre (CSCS) and is based on Cray's XC30 system providing 7.8PFlops.
Related articles
Bristol-based chip designer XMOS has signed one of the largest chip deals so far this year with a $26m investment that could drive the company into the Internet of Things. "There's not many chip companies getting funded here or in the US so that is quite a standout event in itself," said Nigel Toon, XMOS CEO.
The investment comes from Robert Bosch, Huawei and Xilinx Technology Ventures is to accelerate development of the next generation multicore, low latency, low cost processors and programmable I/O. XMOS is looking to expand its silicon design team as a result, says Toon.
The deal includes investment from Europe, the US and China. "Huawei is an interesting partner," said Toon. "They are focussed on investing in Europe which is a small part of the reason but they are the number 3 supplier in smart phones and interested in the whole extension of that into the Internet of Things – there are quite a few overlap areas. And a partnership with a company like that in China is tremendous." Last month Huawei announced it was setting up an R&D centre in Bristol.
The XMOS technology fits well with Bosch in automotive, industrial and consumer, and Hongquan Jiang, Investment Principle at Robert Bosch Venture Capital, will join the XMOS board. "XMOS is one of the most exciting young semiconductor companies around today and we see a huge potential for their intelligent multicore technology in various sectors of our parent company," he said.
The third leg of the investment is FPGA vendor Xilinx. "There's nothing explicit with Xilinx but we are both programmable companies, we are lower power, they are heavily focussed on infrastructure so there's a lot of overlap in our general interests," said Toon, who used to work for arch-competitor Altera. "We have some common distributors so we can benefit from that."
More on Huawei and XMOS from the FT: http://www.ft.com/cms/s/0/7de0d9d4-0e9a-11e4-a1ae-00144feabdc0.html
Related articles
High Tech Bristol & Bath (HBB) is recruiting a part time experienced network manager as its CEO. This is a board level appointment to the newly formed CIC company that will run a range of Special Interest Groups (SIGs) on vertical and horizontal technologies in the West of England area.
These include wireless technologies, high performance computing, smart city, digital health, education & skills and high tech marketing. These groups are led by SIG champions who determine work plans and deliverables.
The network manager will:
Organise SIG meeting
Liaise with SIG champions, recruit replacement champions from membership
Sign up new members locally, nationally and internationally with the support of board members
Promote HBB activities locally, nationally and internationally
Manage membership list
Organise & manage voting for SIG champions where necessary
Develop new SIGs with new members
Develop new revenue streams and raise sponsorship
Liaising with network partners, sponsors, members and the High Tech sector group of the West of England LEP
The role is initially 1-2 days/ week but there is potential to turn this into a full time role depending on the revenue raised. We currently have members from universities, companies and local authorities in the region. The network manager will report to the board of HBB and also sit on the High Tech Sector group of the Local Economic Partnership which acts as the advisory group to the HBB board.
Essential skills
Self starter
Experience with running networks
Electronics industry knowledge
Innovative thinker
Collaborative worker
The backgrounder for the HBB activities is here
Deadline for applications is Friday 25th July. Interviews will be in the week of 28th July 2014, date to be confirmed to successful applicants. To apply, please forward your CV and covering letter to nick@swinnovation.co.uk. If you have any questions please contact Nick on the email above or on 07710 236368
Cambridge Silicon Radio (CSR) has opened a new Research and Development facility in Bristol to drive further innovation in WiFi technology.
The new site, opened today, is staffed by 33 engineers from a wide range of companies in the area such as ST, Nokia and Imagination Technologies and from all around the world, including India, Italy, Spain and the Czech Republic.
"We were building a WiFi team in Bristol but we needed a step change in capability," said Joep van Buerden, CEO of CSR at the opening (below). "We had the opportunity to acquire the WiFi team lock stock and barrel from ST-Ericsson 16 months ago but then we discovered how good a place Bristol was. There is a steady supply of graduates from the university and leading companies around with a vibrant community of engineers with all sorts of expertise."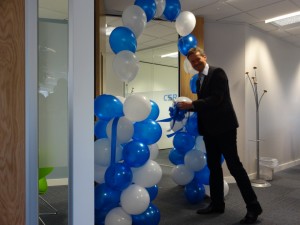 Since the opening of CSR's original R&D site at the Bristol & Bath Science Park in 2012, the size of the team has grown to 33 employees and CSR expects to continue this expansion. The new R&D facility, at Almondsbury in Bristol, will better support the needs of the existing team and enable growth over the coming years.
This expansion will create a number of job opportunities in the local area, especially for graduates from South West universities. "We have some spare capacity but I could very easily see this office growing further," said van Beurden.
"At CSR, we're passionate about developing cutting-edge technology that helps our customers turn great ideas into market leading products, and to do that we need to invest strategically in R&D," said Anthony Murray, Senior Vice President, Business Group at CSR. "That's why we're opening this new, larger facility in Bristol. Bristol has a vibrant technology scene and with high quality universities that are developing the next generation of engineering talent on our doorstep it is a great place to expand our R&D capabilities."
Related articles
A Bristol startup has developed an entirely new way of building static memory on a standard logic process that cuts the power in half without paying a penalty in area or speed.
Silicon Basis is based at the EngineShed and is developing the tools to help chip designers add memory to their devices in a way that uses less power, reduces the number of extra chips they need and gives them flexibility to move to different process technologies.
"Fundamentally memory has some real problems everyone does it the same way," said Mark de Souza, chief executive at Silicon Basis  and formerly at memory IP supplier Virage Logic. "They all take the TSMC arrays and put them together." These arrays are specifically designed on a particular process.
Silicon Basis sees two key advantages for its technology it can save up to 50% of the power consumption and it can go below the bit cell voltage of the foundry memories. This lower voltage allows the memories to be powered by the same voltage source as the logic and so eliminates the need for a second DC-DC converter which adds cost and complexity to a design.
This also makes the technology foundry independent and scalable to new technologies such as FinFet, says de Souza. The company has produced all the models needed and is now working on 28nm silicon to prove the implementation."We use our own bit cell so we are not restricted to the foundry's Vmin which is a huge advantage," said de Souza. "Dropping the voltage makes a huge difference."
All of this comes from a new way of looking at the design of the cell which is currently being patented. "No one has seen this way of designing SRAM before," he said. "We are talking to the experts in memory design and no one has seen this way of putting memory together. Its all using standard rules and standard CMOS. Its an architectural difference that means we don't need to use sense amps and because we are using logic rules we can go down to the logic voltage floor and possibly below that."
"Our cell size is about the same as the high speed cell from the foundry," said Rob Beat, founder and chief technology officer of Silicon Basis and designer of the new cell. "There's a compromise on area in the array but because the periphery is more efficient we are competitive in area especially on the smaller RAMs."
The architecture brings advantages with the compiler that are not to be underestimated, he says. "Our single port compiler also outputs a one port register file," he said. "Because of the way the bit cell is designed we can use the same bit cell for dual port so the dual port compiler will do the dual port register file and asynchronous dual port memory." This avoids the problems of having up to five different compilers for each process technology with a significant support burden
The technology has been developed for the TSMC 40nm node and outperforms the high speed bit cell, says de Souza. "This took us a little bit by surprise as we didnt design for speed," he said. "We did a lot of work at 40nm but what we are seeing from customers is that 28nm HPM is going to be a major node and we think there will be more new designs starting on 28nm than on 40nm."
The technology is also fully compatible with FinFet vertical structures being used in TSMCs 16nm process node. "Our technology will work very nicely with FinFet right out of the box," he said. 
The technology has previously been used by Beat to develop low power FPGA fabric but has attracted more interest for the SRAM compiler. "For me, Silicon Basis starts here," said de Souza.
Startup slashes SRAM power with standard logic process – Electronics Eetimes.
Related articles
The September 2013 newsletter for the High Tech sector group is out now at http://www.swinnovation.co.uk/high-tech-news-newsletter/
Region launches High Tech Special Interest Groups
STMicro to close it's Bristol site
NVIDIA opens £2m design centre in Bristol
Bristol opens up quantum computing in the cloud
Bath plans £100m Innvoation Quarter
Regions startups raise over £5m
The April issue of the LEP High Tech sector group newsletter is out now:
Cisco moves into the region with $130m buy
New advisors for funding schemes in the region
New world leading centres for medical testing and energy harvesting
Bristol firm in £8m robotics project for nuclear industry
Consultancy helps lead £5m combat systems research
XMOS and Gnodal take on global players
For all this and more, register for email updates and download it from the newsletter page
A new publication is now covering the high tech activities in the wider Bristol and Bath region from the Future Smart City to the latest chip developments.
HighTech News comes from the High Tech Sector group of the West of England Local Economic Partnership (LEP). The group supports the wide  range of  activities in microelectronics and embedded software and systems and feeds back into the LEP that determines the wider strategies for growth and development in the region. The West of England is the only LEP to have a group specifically focussed on technology, demonstrating the  strength and skills in the region.
The six page February issue covers new funding for Future City developments, as well as a proposed £24m growth fund for innovation in the region. New technology centres are being set up by power company TDK-Lambda and subsea technology from GE. Bristol silicon chip maker XMOS is now supplying the widest range of  multicore microcontrollers in the industry, while the Universities of Bath and Exeter are collaborating in a joint graphene research centre.
High Tech News is published by SW Innovation News.
Related articles
While Bristol lost out to Glasgow for the Future City demonstrator project, the TSB judges rated the city's bid very highly, so much so that they have awarded a £3m 'runners-up' prize.
"While there is some disappointment that we did not gain the main prize, Bristol is now the only city in the UK to have won funding from Government to be both a Super Connected City and a Future City." said Mayor George Ferguson. "Bringing these awards together gives us a pot of nearly £15m with which we can move really quickly to lever-in additional funding and support from business to help deliver our plans."
"We are fast becoming the UK's creative capital, a city of experimentation and a city that offers a warm welcome," he said. "Our achievement in beating more than 30 other cities to win government funding for Future Cities is testament to our ambitions and our strong partnership approach with both the city's universities, businesses and partners such as Watershed and Knowle West Media Centre."
A round up of the tech news from the Bristol and Bath region is in February edition of the the new LEP High Tech newsletter
Related articles
Researchers in Bristol are working on a European project to increase the performance of white LEDs by a factor of 10 for brighter car headlights.
The €3.8m GECCO project aims to use vertical structures for the new LEDs. Modern high-performance LEDs already provide a bright light output at high efficiency and are used for automobile headlights. At present though, the production process for these kinds of LEDs is still not cost efficient enough and also the efficiency of these LEDs needs further improvement.
The international team of the GECCO project includes the Technical University of Braunschweig in Germany, Madrid, Lodz and lighting company OSRAM in Munich and Regensburg.
Up to now, LEDs are being constructed in a planar way, meaning in layers and completely flat. The more light is being required, the more wafer area has to be produced, which is an expensive and laborious approach. The aim of the GECCO project is to assemble LEDs in a three-dimensional way so that actually every LED consists of a 'light emitting tower' from which the entire vertical surface is emitting light. Obviously the surface of the tower is much larger compared to the ground area of a planar LED. And in fact, it is exactly the gain of light emitting area that leads to a higher light output.
This means the manufacturing of an LED becomes much more cost-effective and as a result replacing ancient electric bulbs, halogen lamps as well as energy saving bulbs to LEDs is getting a lot more profitable. Considering the fact that currently 20 % of electrical energy worldwide is being utilized for illumination, this innovation provides an enormous potential as far as cost-effectiveness is concerned. In addition, LED lighting is particularly important for future electric mobility, particularly for electric cars.
The dimensions of the 'light emitting towers' are within the micrometer range. This means approximately one million LEDs fit on an area of one square millimeter. This process requires utmost precision which can only be achieved by applying nanotechnology manufacturing techniques.
The GECCO project is coordinated by Prof. Andreas Waag from the Institute of Semiconductor Technology at Braunschweig.
Related articles
The SouthWest is extending its position as the key areas for testing the latest LTE (long-term evolution) 4G technology, writes Sian Harris. Cornish trials to deliver broadband in rural areas are being extended until June, while commercial trials of 4G technology are happening in Bristol, Swindon and the Thames Valley.
In Cornwall 180 customers living in and around St. Newlyn East are testing a unique combination of mobile and fixed technology. It was due to end at the end of January but Ofcom has granted an extension to the temporary radio licence until the end of June so that the partners – Everything Everywhere and BT Wholesale – can continue the study.
The trial users previously had no broadband or struggled to get speeds of 2 Mbps. According to the partners, the trial is now giving these participants an average download speed of 7 Mbps, which is enabling them to access a range of content including on-demand television, HD video and VoIP services.
Providing broadband to rural users is a hot topic in the UK today, with the government pushing for every home in Britain to have at least a 2Mbps connection by 2015.
"The industry needs to work together to tackle the issue of rural broadband for the last 10% very hard-to-reach areas. Two or three thousand premises in the UK really don't receive broadband at all, said Dave Axam, director of managed services business development for BT Wholesale, at the LTE/EPC & Converged Mobile Backhaul conference in London.
With this target in mind the two partners – a mobile operator and a fixed operator – launched a trial in October 2011 to see whether LTE wireless technology could provide the infrastructure to meet this need. The partnership enables Everything Everywhere's wireless technology to be used in combination with BT's fibre network.
The partners chose Cornwall for the trial because of its largely-rural nature and because the digital television switchover was complete in the county, freeing up the 800MHz radio spectrum for the trial. This spectrum is good for rural areas because it has a relatively long wavelength and low attentuation by obstacles so can serve a longer range than higher-frequency spectrum. In addition, Cornwall recently received a European Union grant for superfast fibre rollout.
In addition to trying out LTE as a way of providing rural broadband, the trial experimented with another concept: the idea of a fixed operator and a mobile operator sharing the same network. The partners set up two eNodeB trial sites, for which BT provided dedicated fibre backhaul.
"The uniqueness of the trial is that both ourselves and BT have deployed our own packet core networks. This enables the customer experience to be controlled independently across the two mobile and fixed service sets, allowing for an optimised use of the radio resources available," said Tim Rawling, principal solutions designer at Everything Everywhere and one of the team involved in the trial.
He explained that each eNodeB trial site is connected via a BT Openreach circuit (Etherway), supporting a 300Mbps capacity into the site. Separate VLANs provide connectivity via the BT 21 CN network back to separate packet core networks at Bristol for the mobile dongle customers and Adastral Park near Ipswich for the BT fixed customers. He added that the technical design and build of the network took around six months from concept to going live.
At the customer end, the BT triallists gain access to their network using one of three different types of router, the smallest of which looks much like any broadband router – except that its fixed position is near a window rather than a telephone socket – and the largest is similar to a small television aerial (a similarity that is not surprising given what the radio spectrum was used for until recently). Everything Everywhere's trial customers access mobile broadband via an LTE dongle.
Of course the trial has met challenges. According to Rawling, "a key challenge was in selecting sites that provided a suitable trial area (filling significant 'not spots') without compromising the current network coverage or stability, and getting sufficient backhaul to these sites."
Another challenge, he added, was "finding a way to combine fixed and wireless technologies whilst providing a stable and consistent experience to our trialists. A main initial finding is that the complementary technical assets of Everything Everywhere and BT can work together to enable a consistent broadband experience for our customers," said Rawling.
The customers are unlikely to be too concerned about the network details but so far triallists seem happy with their experiences. One triallist Mark Jose, commented that the trial has enabled his family to enjoy streaming movies and participating in fast online gaming, which was previously not possible for them.
Another triallist, Tamasin Battell, noted: "Before the 4G trial downloading anything was impossible; it was so slow. Now, we can watch on-demand television and stream music. Better still, my fiancé's sister in Australia has met her four-month-old nephew for the first time over Skype. The extension of the trial is a godsend for me, as I really don't want to go back to the digital dark age."
Related articles
Safety critical experts are calling for an alternative network for timing alongside the GPS satellite network to avoid catastrophic system failures.
"Many organisations declare they have no dependence on GPS and hence no need for backup. They are wrong," said Prof Martyn Thomas, visiting professor at Bristol University and one of the founders of consultancy Praxis, now Altran Praxis, in Bath, speaking to the industry at the Safety Critical Systems Club symposium in Bristol. "Ideally we need a global, diverse source of timing," he said. "The safety community needs to watch out for accidental systems and I believe they are more common than we currently realise."
GPS is used as a timing system for lots of systems, and if it were to fail, be jammed or hacked would have catastrophic consequences for transport and mobile networks. These would range from errors in navigation to complete system failure (see links below)  and could be triggered by a huge solar flare called a Carrington event which is increasingly probable. "We have never really had a massive coronal event in the era of satellites so we just don't know what the effect would be," he said. The risk of such a storm in the next decade is over 12% (see more links below).
One possible solution would be eLoran, a land-based, low frequency, high power alternative wireless timing signal that would be difficult to jam and cheap to run, he said. "It would cost just £1m to £2m a year to maintain the system across Europe, it's a no-brainer but the question is who would pay for it," he said.
Related articles
Technology from research into quantum security at the University of Bristol has been patented as the basis of a new secure chip being developed with Nokia.
Jeremy O'Brien and colleagues have patented this technology with Nokia and the partners are thinking beyond the idea of secure communications with banks. "We have firm ambitions with Nokia. More and more private and personal information is going to be communicated on mobile devices," said O'Brien. "You could imagine a scenario where the device asks you how secure you want a message or voice call to be before you start." Using the technology could prevent eavesdropping on calls, for example.
More in this exclusive article by Sian Harris

SouthWest companies are at the forefront of driving a new phase of contactless payment systems for transport.
IT specialist Hoeft & Wessel in Swindon is to provide its new Almex e-Ticketing system across the UK for easy contactless payment by credit card without prior registration. The system uses the new generation of NFC (near field communication) chips, some of which are designed by the Cirencester division of chip giant Broadcom, while teh core software comes from a Bristol firm.
"This super-fast ticketing system will practically revolutionise the public transport system," said Thomas Wolf, member of the Board of Management of the Hoeft & Wessel. "All passengers will soon need is a credit card with NFC functionality to be able to board the means of transport of their choice immediately. What this means in practice is boarding, holding the card in front of the reading device and starting the journey. After holding the card in front of a reader at the end of the journey the best fares will be calculated and charged. "
With the new NFC ticketing system it was possible to minimise the transaction time required for identification of the credit card or the e-Ticket, which now amounts to less than 500 milliseconds.
The first practical test is now on the cards: Hoeft & Wessel will be equipping FirstGroup, the largest private bus operator in the United Kingdom, with 4,000 systems. They will be integrated into the corporate IT system, and a further 1,500 are at the planning stage. "Now that we have reached a leading position in the bus market, we plan to intensify our efforts in the field of stationary ticketing terminals. In the process, in future we will also be targeting the railway market in the United Kingdom," says Peter Aylward, General Manager of Almex UK in Swindon.
The software technology to make this happen was developed in Bristol by Creditcall. Its Contactless Kernel enables acceptance of Visa payWave and MasterCard PayPass cards in retail and unattended environments.
"CreditCall is a globally acknowledged industry expert with an exceptional track record in the payment sector. Their Contactless Kernel has enabled us to quickly and economically integrate contactless payment functionality across our offering, " said Peter Aylward, General Manager of Almex UK, part of Hoeft & Wessel.
"We are delighted that Hoeft & Wessel as a well-known provider of proven ticketing systems across Europe have opted for our contactless kernel," said CreditCall's CTO Jeremy Gumbley. "With Contactless.LIB, Hoeft & Wessel is able to make contactless payment available more widely, contributing significantly to the contactless payment revolution happening right now."
Background
In the past, contactless credit cards provided for payment of a service at a predefined price. In contrast, as passengers' boarding and exiting statistics are recorded, this means that the total fare is only determined when changing trains or buses or at the end of the journey. Moreover, passengers used to be required to register with the transport authorities and buy a special identification medium to be able to use these processes. The innovation developed by Hoeft & Wessel on the basis of credit card systems now ensures that all passengers need to use the check-in/check-out system is their credit cards.
Passengers also benefit from the new ticketing system when paying for tickets and finding the correct fares: it automatically selects the suitable ticket and the best fare. The background system enables individual transactions to be consolidated across a period of time capable of being selected by the operator; only once this has been done is the transaction submitted to the payment service provider. This helps to save transaction fees. If a best-price strategy is applied, in return the passenger can be billed with the most favourable ticket for his usage behaviour, for instance in the form of a day ticket rather than several single tickets.
Related articles
Three SW research labs are part of a new website that brings together some of the most advanced information and communication technology (ICT) projects in Europe.
The Future and Emerging Technologies (FET) programme of the European Commission has launched FET-House to help young people to understand what their options are as regards the career in science and technology, and bring across some of the excitement of people who have a passion for science.
The projects include the Bristol Robotics Lab, the International Centre of Unconventional Computing at UWE and the Science and Engineering of Natural Systems Group and Nano Research Group at the University of Southampton.
The website showcases topics such as zero-power computation and communication, robotics, quantum technology, understanding the brain, or data privacy. The themes will be linked to demos, videos and write-ups of a selection of related projects, as well as to people working in the field who are able to excite others about their work.
Related articles
Bristol startup TopicLogic is looking to raise runds for the launch of its cloud-based software in San Francisco later this year.
The company develops a web-based service that manages online storage such as Evernote and Dropbox. It has already raised £100,00 in angel funding and is looking for £250,000 to support the product and for online marketing, with the launch at the TechCrunch event in September.
The tool is already being used in a trial of barristers in London to organize their legal documents.
peter@topiclogic.com
Related articles
The SouthWest figures heavily in the 50th anniversary of the microchip this week, says SiliconSouthWest.
The silicon integrated circuit (IC, left) as we know it was patented by Fairchild Semiconductor's Robert Noyce who received the first patent for a commercially available silicon IC on the 25th of April 1961. Plessey Semiconductor in Swindon was developing a silicon chip at the same time following the first chip (in a different technology) shown by Texas Instruments a few years earlier in 1958. Fairchild set up in Swindon in 1972, with Intel close by in 1974.
The National Microelectronics Institute (NMI) highlights the current state of the art for microchip technology with SouthWest activity from the University of Southampton, Toumaz in Oxford, Imagination Technology in Chepstow, Dialog Semiconductor in Swindon and Plessey Semiconductors in Plymouth and Swindon.
The UK is home to over 40 per cent of Europe's independent electronic design community and its 11,500 companies and 250,000 people form an ecosystem worth £23 billion per year to the British economy, with the largest cluster of silicon designers here in the SouthWest. "You only have to look inside your mobile phone to see the British contribution," said Dr Derek Boyd, head of the NMI. "You will likely find an ARM processor, a CSR Bluetooth and GPS chip, a Dialog Semiconductor power management device and an Imagination Technologies graphics core."
"The UK's microelectronics sector continues to be at the forefront of this innovation," said Dr Boyd. "UK based researchers, technologists and manufacturers are creating chips and systems capable of genetic disease detection, determining the build up of pollutants in the oceans, emitting light that sterilises drinking water or medical instruments, analysing the structural integrity of high-speed rail lines, and the early identification of injuries in racehorses."
A chip capable of detecting single nucleotide polymorphisms (SNPs) inDNA has been developed which gives results in minutes – DNA amplification, sequencing and analysis typically takes days. The device can be configured to detect any SNP, making it applicable to medicine, agriculture and pharmacology. The technology has been developed by Professor Chris Toumazou, founder and CEO of Toumaz Technologies and DNA Electronics.
Researchers at Southampton University have created a chip to detect nutrients and pollutants at the ultra low concentrations found in the ocean. Developed in collaboration with the National Oceanography Centre, the 'labon chip' is capable of capable of measuring temperature, salinity, and the concentrations of nitrites, nitrates, phosphate, iron and manganese
Plessey Semiconductor, in collaboration with Cambridge University, is developing an LED (light emitting diode) that uses Gallium Nitride to releaselight at wavelengths lethal to bacteria – 265nm. The low cost technology will be made available during this decade and be powered by solar cells. Plessey believes it will be adopted in developing economies or disaster zones to create clean drinking water, and in the developed world to replace chlorine sterilisation methods. Additional uses include the sterilisation of medical instruments.
Accelerometer chips are being developed at the University of Southampton that, among other applications, are capable of detecting weaknesses in high-speed rail networks. The highly sensitive chips monitor how a section of track behaves whilst a train is on it. Any changes in behaviour can be used to determine changes in its structural integrity.
The NMI has also highlighted transport, digital media, communications, healthcare and smart energy grids as key growth areas for the electronics industry, all strong areas for the SouthWest.
Related articles
In a dramatic move, Bristol University is to open up its research and give away the rights to patented technology for free. The University has world leading research in many areas, including microelectronics, materials science and biotech, and is looking to use its intellectual property to build collaboration with industry, says Dr Neil Bradshaw, Director of Enterprise and the man responsible for commercialising the university's innovation
The psychological issues of nuclear accidents such as Fukushima Daiichi in Japan are just as important as the immediate health issues says a leading trauma expert speaking in Bristol. "Twenty five year on, we can safely say that the biggest problem of the Chernobyl accident was not cancer or ecological but psychological, and I think that will be the situation in Japan," said Elena Bodnar, director of the Trauma Risk Management Research Institute at the University of Chicago. Her experiences with the Russian nuclear disaster led to the innovative design of a face mask.